Fig. 11.1
The HeartMate XVE (Thoratec Inc., Pleasanton, CA) first-generation pulsatile LVAD and HeartMate II axial flow LVAD. (Courtesy of Thoratec Corp., used with permission.)
Several LVADs with third-generation design have entered clinical trials. These include the HVAD (HeartWare Corp., Framingham, MA), the Duraheart (Terumo Heart Inc., Ann Arbor, MI), the Levacor VAD (World Heart Corp., Salt Lake City, Utah), and the VentrAssist device (Thoratec Corp., Pleasanton, CA) Figs.
11.2
. In a recent review, third-generation devices were characterized by a noncontact bearing design, in contrast to second-generation axial flow devices which have a contact bearing configuration [
54
]. Noncontact design is achieved by suspension of the rotor using either magnetic or hydrodynamic levitation, or a combination of both. The theoretical advantage is the elimination of contacting parts and friction wear, with even greater potential for improved long-term durability. These devices also offer the advantages of small size and small percutaneous drivelines. The HeartWare HVAD is small enough in size to be implanted completely within the pericardial space, eliminating the need for a preperitoneal pocket. Third-generation design offers the promise of additional improvements in long-term device reliability, an important factor in achieving greater acceptance of LVADs for destination therapy.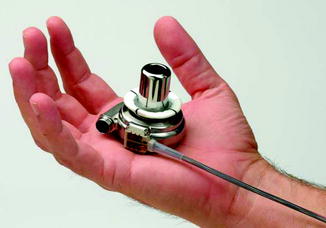 Fig. 11.2
The HeartWare HVAD (HeartWare Corp., Framingham, MA). (Courtesy of HeartWare Inc., used with permission.)
Current Outcomes
One of the largest clinical trials evaluating the use of mechanical circulatory support for destination therapy has recently completed enrollment. Patients in this trial were randomized to receive either the continuous-flow HeartMate II axial flow device or the pulsatile-flow HeartMate XVE LVAD in a 2:1 ratio. Preliminary results of the trial indicate significant advantages of the second-generation HeartMate II when compared to the HeartMate XVE, leading to the termination of randomization prior to completion of the trial. Several third-generation devices, as previously discussed, have entered clinical trials in the USA.
Conclusions
VAD therapy has emerged as an important treatment option for patients suffering from end-stage heart failure. Since the results of the REMATCH trial, acceptance of LVADs as destination therapy has been slow. As experience with patient selection and management has grown and as device design has evolved, clinical outcomes with regard to survival and freedom from adverse events continue to improve. Efforts toward the development of smaller devices, transcutaneous energy sources, and minimally invasive implantation techniques are aimed at reducing complications associated with current device therapy. This will likely lead to an increase in the acceptance in the use of LVADs earlier in the progression of heart failure, potentially leading to further improvements in clinical outcomes. In addition, more widespread dissemination of the technology will improve access of therapy to the many patients who could benefit from LVAD support, likely leading to an increase in the use of devices for long-term destination therapy in patients not eligible for cardiac transplantation.