Fig. 7.1
Relation between dyssynchrony and cardiac output
Typically a widened QRS on the EKG has been considered a surrogate for LV dyssynchrony. Hawkins and their group noted increasing prevalence of dyssynchrony with prolongation of QRS duration [
22
]. Data from the Vesnarinone (VEST) study has revealed that QRS duration was directly correlated to mortality as noted in Fig.
7.2
. Prolongation of QRS (>120 ms) is widely accepted as occurring in about 30 % of patients with HF [
23
,
24
]. It is a significant predictor of LV systolic dysfunction in HF with an inverse correlation between QRS length and left ventricular ejection fraction (LVEF) [
24
–
26
]. Xiao et al. showed that early mortality was observed in those with larger increase in QRS duration and the time to death from QRS reaching 160 ms was significantly shorter in those without an implanted pacemaker in comparison to those who had one [
27
]. Multiple studies have confirmed the higher incidence of sudden cardiac death in HF patients with prolonged QRS complex. In an effort to determine the optimal QRS duration that stratifies HF patients into higher and low risk for increased mortality or need for transplantation, Kalra and his group determined that patients with a QRS duration ≥120 ms were associated with a threefold risk and a significantly low 5-year survival rate [
25
]. Most large-scale trials have considered QRS length >120 ms as part of their inclusion criteria, thus offering the benefit of application in clinical scenarios.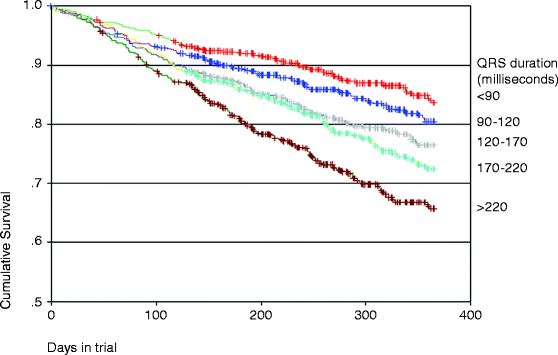 Fig. 7.2
Patient survival stratified by QRS duration (Adapted from Gottipaty V, Krelis S, Lu F, et al. JACC 1999; 33 (2S1):145A)
Rationale for CRT
Evidence from the Trials
Since the observation of augmented cardiac performance with CRT, various trials have been undertaken to corroborate those findings. The early observational studies were limited in their sample size where the patient served both as the case as well as the control. The data from the randomized controlled trials have convincingly substantiated the role of CRT in HF management, given that nearly 5,000 patients have been evaluated to date.