Fig. 1.1
Myocardial infarction culminating in heart failure; the direct consequences of myocardial infarction and the subsequent local and peripheral responses designed to protect the body from the effects of the failing heart (Adapted from McKay RG, Pfeffer MA, Pasternak RC, Markis JE, Come PC, Nakao S, et al. Left ventricular remodeling after myocardial infarction: a corollary to infarct expansion. Circulation. 1986;74(4):693–702)
Direct injury to the myocardium with subsequent loss of contractile function can also be seen with infiltrative processes such as toxins, infections, and genetic abnormalities (these will be discussed further in the section on "
Heart Failure with Normal/Preserved Ejection Fraction
").
(b)
Hemodynamic Stress on the Ventricular Myocardium
Left ventricular systolic dysfunction also develops secondarily to the hemodynamic stress of a chronic pressure load (termed "afterload") or volume load (termed "preload") on the ventricular wall. Increased afterload is observed in patients with aortic stenosis and in patients with uncontrolled hypertension. Similarly, increased preload is seen in patients with chronic mitral and/or aortic insufficiency, intracardiac shunts, and arteriovenous fistulas. In response to these disease processes, which impose sustained hemodynamic stress on the ventricular wall, the heart muscle undergoes a pathological hypertrophy (Fig.
1.2
). This is the early phase of remodeling. In cases of increased afterload, the ventricle undergoes concentric hypertrophy, which is characterized by an increased ventricular wall thickness in comparison to wall cavity size. In cases of increased preload, the ventricle undergoes eccentric hypertrophy, characterized by an increase in chamber volume with normal or reduced wall thickness [
5
].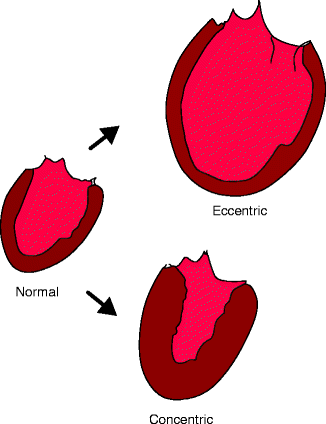 Fig. 1.2
Maladaptive cardiac hypertrophy: concentric and eccentric hypertrophy compared to a normal heart (Adapted from Katz AM. Physiology of the Heart. 3rd ed. Philadelphia, PA: Lippincott Williams & Wilkins; 2001])
Whereas cardiac hypertrophy can be a normal physiologic response to exercise, allowing for an increase in mass and improvement in contractility, pathologic hypertrophy involves no improvement in contractility. Rather, it allows the ventricle to maintain contractile force temporarily until it can no longer overcome the increased hemodynamic stress. As mentioned, the increased wall stress also promotes the production of inflammatory cytokines. These cytokines have been shown to have deleterious effects on contractile proteins by altering their expression and by triggering pathways involved in myocyte apoptosis. Cytokine and neurohormonal production have been shown to occur in later phases of remodeling. Eventually the muscle fibers accumulate collagen and fibrose [
6
]. This eventually leads to left ventricular dilatation, further loss of contractile function, and thus reduced systolic function (Fig.
1.3
).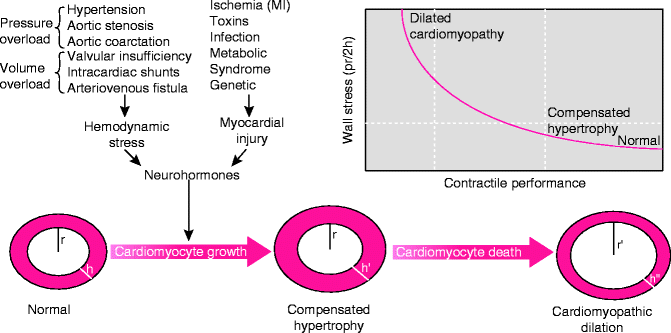 Fig. 1.3
The response of the heart muscle to stress. Hypertrophy of the cardiac muscle preserves contractile function initially, but eventually, the hypertrophied muscle fibroses and gives way to dilatation and loss of contractile function (Adapted from Diwan A, Dorn GW 2nd. Decompensation of cardiac hypertrophy: cellular mechanisms and novel therapeutic targets. Physiology (Bethesda). 2007;22(1):56–64)
Heart Failure with Normal/Preserved Ejection Fraction