Fig. 2.1
Heart failure staging system (Adapted from Hunt SA, Abraham WT, Chin MH, Feldman AM, Francis GS, Ganiats TG, et al. ACC/AHA 2005 Guideline Update for the Diagnosis and Management of Chronic Heart Failure in the Adult: a report of the American College of Cardiology/American Heart Association Task Force on Practice Guidelines (Writing Committee to Update the 2001 Guidelines for the Evaluation and Management of Heart Failure): developed in collaboration with the American College of Chest Physicians and the International Society for Heart and Lung Transplantation: endorsed by the Heart Rhythm Society. Circulation. 2005 Sep 20;112(12):e154–235)
Importance of Algorithms
In order to define and guide the optimal ­management of HF patients in varying clinical scenarios, ­treatment algorithms have become an essential ­cornerstone of clinical practice. These modalities are valued for their ability to help streamline clinical decision making based on disease severity. However, oversimplification of an algorithm may lead to its inapplicability in complex clinical situations. Therefore, treatment algorithms should be based on current guidelines derived from large randomized controlled clinical trials and individualized based on the assessment of a clinical situation
.
In the field of heart failure, there are five main sets of guidelines developed by (1) European Society of Cardiology (ESC 2012), (2) American College of Cardiology/American Heart Association (ACC/AHA 2009), (3) Heart Failure Society of America (HFSA 2010), (4) Canadian Cardiovascular Society (CCS 2012), and (5) International Society of Heart and Lung Transplantation (ISHLT 2007). The algorithm described in Fig.
2.2
is based on these guidelines as well as current randomized controlled trials.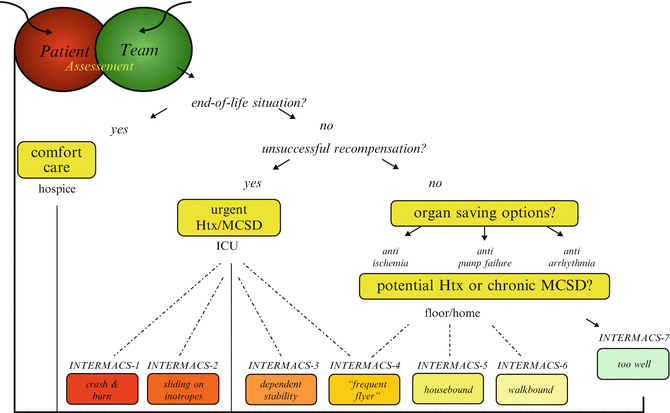 Fig. 2.2
Management algorithm in heart failure (Adapted from Deng MC, Naka Y. Mechanical Circulatory Support Therapy for Advanced Heart Failure. London: Imperial College Press; 2007)
Initial Assessment
The algorithm starts with the encounter between the HF patient and the primary medical team, ­consisting of cardiologist, general internist, and nurse, who have exhausted all lifestyle and ­medical options without success. In this setting of acute decompensation and progression towards advanced heart failure, a phase known to be associated with a high risk of death, a referral to a designated ­cardiac transplantation center for evaluation is undertaken. The initial assessment is not a complete cardiac transplantation evaluation but rather addresses the following main questions:





How severe is the heart failure condition?






Are there reversible causes?






Are there risk factors limiting the overall prognosis?
After the initial assessment, a structured management algorithm (Fig.
2.2
) is applied in order to recompensate the patient. If recompensation cannot be achieved, cardiac transplantation evaluation is initiated with the option of mechanical circulatory support device (MCSD) as either bridge to recovery (BTR), transplant (BTT), or destination therapy (DT). At anytime during management, a situation may arise in which the patient may not benefit from any of the modern therapies because of multiorgan failure or other conditions, leading to a patient preference for
comfort care
facilitating a humane form of death instead of prolongation of suffering [
13
,
14
].
Risk Stratifiers
In order to plan effective treatment strategies and transplant programs, it is important to be able to objectively measure the prognosis of patients. An ideal test needs to be accurate (i.e., have a high specificity and sensitivity), reproducible, safe, and inexpensive.
The 6-min walk test
can be performed by almost all patients with chronic heart failure without the need for specialized equipment. This test was first used in heart failure patients by Guyatt and colleagues in 1985 [
15
] and has subsequently gained widespread acceptance as a measure of exercise capacity in clinical trials and transplant programs. Zugck et al. showed that the walk test provided information on the combined end point of death and/or hospital admission due to worsening heart failure that was similar to peak oxygen uptake in patients with dilated cardiomyopathy [
16
]. The authors concluded the test correlated closely with peak oxygen uptake (pVO
2
) and could predict individual pVO
2
when determined serially in the same patient. Opasich and colleagues also compared the prognostic role of the 6-min walk test to pVO
2
and NYHA functional class. Although the test was found to be able to predict survival in univariate analysis, this was not the case when pVO
2
or NYHA class were included in multivariate models, indicating that the walk test is not an independent prognostic indicator [
17
]. Whether the test is an accurate and independent predictor of prognosis in chronic heart failure, however, is the subject of some debate [
18
].
Peak Oxygen Uptake
Nonsurgical Management of Heart Failure