W. Dennis Foley
F. Scott Pereles
Computed Tomographic Angiography
Computed tomographic angiography (CTA) has become a standard technique for preoperative evaluation of patients with abdominal aortic abnormalities. In the presence of abdominal aortic aneurysm (AAA), information provided by CTA includes aneurysm dimension (both longitudinal and transverse) and lumen size; length and diameter of superior and inferior neck; patency of aortic branch vessels, particularly mesenteric and renal; and degree and extent of atherosclerotic disease involving the iliac arteries. CTA has been used to study infrarenal, juxtarenal, and suprarenal AAAs as well as thoracoabdominal aneurysms. CTA implemented with a multidetector row CT system has now replaced conventional catheter arteriography for preoperative and preintervention evaluation.
Magnetic Resonance Angiography
Equipment Considerations
Not all magnetic resonance (MR) machines are created equal, but a large percentage of MR equipment is capable of diagnostic-quality examination of the abdominal aorta. High field (≥1T) strength magnets are certainly preferable to low field examination of the abdominal aorta, and therefore discussion that follows will mostly relate to examination
at 1.5 and 3T. This is not to say that low field examinations of the abdominal aorta are not possible or are always nondiagnostic.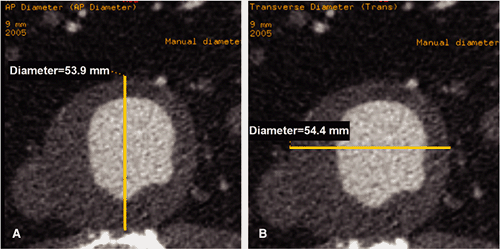 Figure 18-13 Anteroposterior and transverse dimensions of an infrarenal AAA. A:
Manual measurement of external AP diameter obtained from a true cross-sectional view of the aorta. Measurement is 53.9 mm.
B:
Manual measurement of transverse diameter of an aortic aneurysm (including aortic lumen and lining mural thrombus). Measurement was obtained from a true cross-sectional image of the aorta. Measurements of true aneurysm volume, including lumen and lining thrombus, may provide more clinically meaningful estimates of aneurysm dimensions.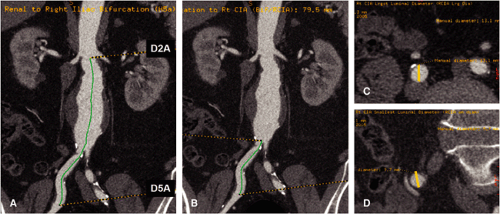 Figure 18-14 Linear measurement of the infrarenal abdominal aorta and common iliac artery and length and transverse dimensions of the common iliac artery. A:
Automated centerline measurement obtained from the inferior margin of a renal vascular pedicle (D2A) to level of the right common iliac artery bifurcation (D5A). This measurement is a true linear longitudinal distance that accounts for vessel tortuosity. Measured length is 191.2 mm.
B:
Automated centerline measurement of length of the right common iliac artery. Measurement accounts for vessel tortuosity. Measured length is 79.5 mm.
C:
Anteroposterior diameter measurement of largest lumen diameter of the right common iliac artery from a true orthogonal display. Measured dimension is 13.1 mm.
D:
Anteroposterior diameter measurement of the smallest dimension of the right common iliac artery obtained from a true orthogonal projection of the vessel. Diameter measurement is 9.7 mm.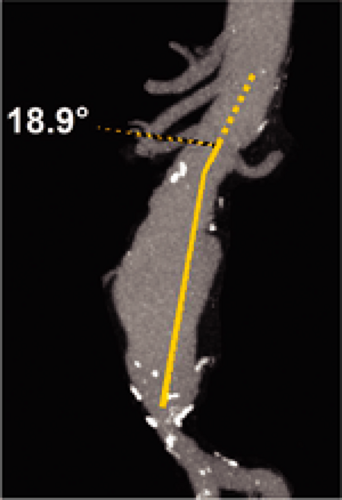 Figure 18-15
Angulation of the superior neck in relation to the long axis of the infrarenal AAA. The intersection of the long axis of the superior neck and the infrarenal aneurysm results in an angle of 18.9 degrees. The long axis of both the superior neck and the infrarenal aneurysm were determined from the 3D image data. For endovascular stent grafts, angulation of the superior neck in relation to the long axis of the aneurysm should ideally be less than 60 degrees.
Techniques
Early MR techniques focused on comprehensive evaluation of the aorta by employing both bright blood and dark blood pulse sequences. However, these examinations had been hampered by severe motion artifact from respiration, bowel peristalsis, and vascular pulsations. Newer breath-hold acquisitions and snapshot techniques, which are to large measure breathing independent, can reliably evaluate acute pathology within the aorta. These techniques include incoherent gradient echo imaging with ultrashort TR (TR <4 milliseconds) with and without gadolinium contrast (often referred to as contrast-enhanced 3D magnetic resonance angiography [MRA]), and steady state gradient echo (e.g., True fast imaging with steady state free procession [FISP], balanced fast field echo [FFE], and fast imaging employing steady state acquisition [FIESTA]). More comprehensive interrogation can include dark blood preparation strategies and high spatial resolution imaging if plaque morphology and quantitation are to be assessed.
Rapid aortic imaging is no longer the sole domain of CT. Although MDCT is truly stunning in its speed, interrogation
of the entire abdominal aorta in a single breath hold is also possible by magnetic resonance imaging (MRI). Using a combination of noncontrast-enhanced single-slice and cine-balanced gradient echo images, the abdominal aorta can be screened in a matter of minutes for critical pathology. More detailed evaluation, including contrast-enhanced MRA and evaluation for complications surrounding the aorta, can be completed in a matter of a few additional minutes.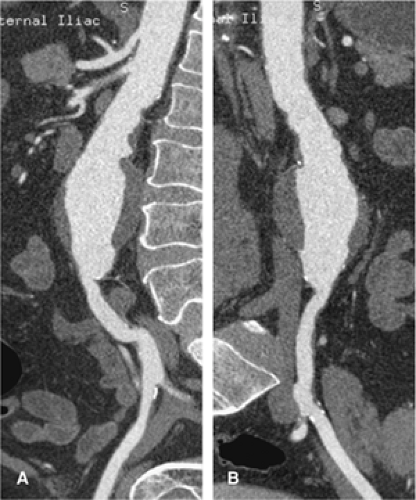 Figure 18-16
Automated curved planar reformation of the abdominal aorta and both common iliac and external iliac arteries.
A:
Curved planar reformation of the abdominal aorta and right common and external iliac arteries. There is mild tortuosity of the common iliac artery and minimal atheromatous plaque disease.
B:
Curved planar reformation of the abdominal aorta and left common and external iliac arteries. Minimal tortuosity and atheromatous wall thickening of the left common iliac artery. A fusiform infrarenal aneurysm with lining mural thrombus is present. Posterior wall atheroma is noted in the superior neck. The mildly tortuous iliac vessels in this patient are suitable for percutaneous access for aortic endovascular stent grafting.
Nuances of Acquisition Strategies
Noncontrast Techniques
Historically, spin echo techniques dominated noncontrast MR aortic imaging; however, the advent of high-performance gradients (slew rates >100 mT/m/milliseconds) coupled with development of balanced gradient echo techniques shifted aortic imaging strategies from spin echo to gradient echo. Occasionally, black blood turbo spin-echo (TSE, FSE) or its single shot analogs (HASTE, SSFSE) imaging is still performed for an overall anatomical appreciation of the abdominal aorta course and caliber. These single-shot techniques can also provide strong anatomic definition of the periaortic tissues as well as a more overall view of the regional organs including the bowel. In general, however, flow heterogeneity can present a problem for most dark blood preparations, making them somewhat less reliable than bright blood gradient echo techniques and contrast-enhanced MRA for luminal evaluation, including detection of dissection.
Noncontrast bright blood aortic imaging with time of flight is still performed on occasion on older units but has mostly been abandoned in favor of faster and more robust balanced gradient echo techniques and contrast-enhanced MRA. Some people espouse using phase contrast imaging at sites of stenosis to determine if the stenosis is hemodynamically significant. A significant stenosis will create a flow void at and just distal to the stenosis due to intravoxel spin dephasing. This is certainly true and may be of value in smaller vessels (i.e., renal arteries) but is relatively time-consuming and of dubious necessity in an artery the caliber of the aorta.
The second artifact of dark bands occurs as a result of off resonance effects from minor field inhomogeneity. These dark bands are usually harmless when they occur outside the area of interest, but to the untrained observer, they can be mistaken for true pathology. One example is if a dark band fell within the area of interest, such as through the aortic lumen, where it could be mistaken for a dissection flap. However, one should note that a dark band artifact will usually continue beyond the lumen. Additionally, shifting the tuning frequency of the magnet will change the position of dark band artifacts within the image but will not change the position of a true dissection flap. Although the same phase cancellation and dark band artifacts exist in both single-shot and cine gradient echo techniques, it is often useful to perform a few cine-balanced gradient echo slices in addition to the single-shot images. These dynamic imaging sequences usually give the observer a sense for whether the abnormality seen on the single-shot images is artifact or true pathology.
At this point, if a patient's exam is negative for aortic pathology, he or she can be safely returned to the emergency room for further evaluation. If an aortic abnormality is present, a decision can be made as to whether further imaging is warranted or whether immediate surgical attention is most prudent. For the more stable patients that present with positive aortic pathology, completion of a comprehensive abdominal exam can be performed, including fast-spin echo HASTE/SSFSE images, postcontrast time-resolved MRA and/or 3D MRA and 2D postcontrast fat-saturated FLASH/FMPSPGR.
Flow Quantification
Although flow quantification is frequently used in cardiac MR regarding shunts and valvular function and its use has been described to measure renal artery stenosis and mesenteric blood flow, flow quantification is rarely performed on the abdominal aorta itself. In cases of severe aortic stenosis, the same principles of flow quantification can be applied that apply elsewhere. Namely, a gradient echo quantified phase contrast sequence can be implemented to determine flow parameters, including peak velocity, across a stenosis (perpendicular to the direction of flow). The modified Bernoulli equation "4V2" can be applied where "V" equals the velocity, as measured in meters per second, is squared and then multiplied by 4 to yield the approximate gradient across a stenosis. Normal velocity in the aorta is less than 1.25 meters per second (m/s).
Contrast-enhanced Magnetic Resonance Angiography
Postcontrast imaging of the aorta can be performed in several different ways. Time-resolved imaging can be performed with a modicum of contrast on many newer machines (hardware/software packages after the year 2000). One example is projectional MRA, often referred to as "freeze-frame" or "subsecond angiography" after its subsecond temporal resolution capabilities. In subsecond MRA, 4 to 6 cc of gadolinium contrast is injected at 5 to 6 cc per second followed by a 15- to 20-cc saline flush. Although technically a 3D MRA acquisition, the images are acquired with the shortest TR (preferably <2 milliseconds), a wide bandwidth (>1,000 hz/pixel), and a small number (<12) of thick partitions (>8 mm) so that images are really only viewable in one axis and thus become projectional 2D angiograms in reality. The ultrashort TR gadolinium-enhanced imaging with a sacrifice of through-plane resolution coupled with in-line subtraction of mask images from the postcontrast frames is what enables this technique's high-contrast, high temporal resolution performance. Subsecond MRA (
Fig. 18-18
) has been shown to demonstrate luminal course and caliber as well as differential flow patterns within aneurysms and dissections of the aorta (
7
).
More commonly, high spatial resolution contrast-enhanced 3D MRA is employed for accurate evaluation of the abdominal aorta. The standard 3D MRA sequence is a spoiled gradient-recalled echo sequence run with the minimum possible echo time (TE) and TR achievable (typically TR <4 milliseconds). The 3D volume (sometimes referred to as a slab) is placed in the coronal orientation and is typically 60 to 120 mm thick. This volume allows anterior–posterior coverage to include the entire abdominal aorta and its major branches, including the celiac trunk, splenic, hepatic, gastric, superior mesenteric, renal, and inferior mesenteric arteries. This volume also usually includes much of the descending thoracic aorta as well as the common iliac arteries. The slab can easily be tailored and placed slightly more anteriorly or posteriorly to focus on branch vessels such as the superior mesenteric artery (SMA) or renals, respectively (
Fig. 18-19
). The slab is composed of multiple partitions of thickness generally ranging from 0.8 mm to 4 mm, depending on individual MR unit capabilities. Some type of slice interpolation scheme is always used in the through-plane direction to help palliate partial volume averaging effects. Generally, somewhere between 30 and 45 actual partitions are acquired, and this is interpolated to 60 to 90 partitions of the aforementioned thickness.
Three breath-hold 3D MRA acquisitions are generally obtained—mask, arterial phase, and venous phase. The first 3D acquisition is prior to contrast administration and has a dual function to insure proper position and coverage as well as to serve as the mask acquisition. The mask will be the background image subtracted from subsequent postcontrast acquisitions to produce a higher contrast ratio
image, which truly mimics conventional digital subtraction angiograms. The angiographic 3D MRA is acquired at the time of maximal enhancement of the abdominal aorta and its branches. The start of this acquisition is predetermined by either a timing run preceding the 3D MRA or some type of fluoroscopic triggering. After a small period of breathing (generally, 10 to 20 seconds), the third breath-held 3D MRA is obtained coinciding with the venous phase of circulation. This acquisition typically displays the splenic, mesenteric, and renal veins to good advantage. The shortest possible delay between arterial and venous phase imaging is suggested to demonstrate splenic and renal veins to the greatest advantage. A 20-second delay after the arterial phase is suggested if mesenteric and portal veins are of greatest interest.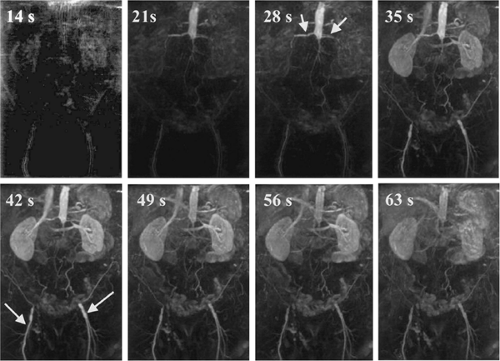 Figure 18-18 TRICKS imaging demonstrated in a 69-year-old man with aortic occlusion.
3D TRICKS time frames (TR = 7.8/TE = 1.7), demonstrating the peak arterial filling of the aortorenal arteries just above the occlusion at 28 seconds (
short arrows
) and the maximum signal intensity of the common femoral arteries at 42 seconds (
long arrows
). (Reprinted with permission from Swan JS, Carroll TJ, Kennell TW, et al. Time-resolved three-dimensional contrast-enhanced MR angiography of the peripheral vessels.
Radiology
. 2002; 225:43–52.)
Contrast Enhancement Schemes
Dozens of contrast enhancement schemes have been proposed to leverage the intricacies of MRA. What follows is a general approach that can be tailored depending on exact equipment specifications. Double-dose gadolinium (0.2 mmol/kg) is useful for aortic imaging, although diagnostic images can often be created with far less contrast (as low as 0.05 mmol/kg). The aortic MRA itself only requires single
dose (0.1 mmol/kg); however, there are numerous reasons to use double dose instead of single dose if contrast cost is not the overriding issue in your practice. First, a typical aortic injection scheme is to inject contrast at 2 to 3 cc per second. If one injects 20 cc of contrast (single dose for a 100-kg person) at 2 cc per second, then the bolus duration is only about 12 to 15 seconds (10 seconds of infusion plus a few seconds of leeway due to the fact that the injected bolus dilutes or spreads out to a larger volume and time as it is injected and carried in the blood). Most MR machines require a greater length of time to make an adequate 3D image than 12 seconds. If one injects double-dose contrast, then the imaging window lengthens to roughly 25 to 30 seconds, depending on cardiac output and various other factors influencing circulation time. This longer bolus makes it easier for the technologist to obtain images dur-ing an appropriately contrasted window. Furthermore, although the arterial phase images may have adequate contrast in the aorta at 0.1 mmol/kg injections, venous images of the mesenteric, renal, and portal veins benefit from the higher initial concentration of gadolinium (0.2 mmol/kg), as it is diluted to a vastly larger volume by the venous phase of imaging.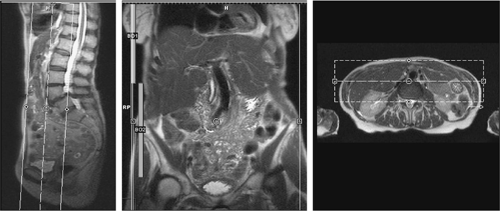 Figure 18-19
MRI screen capture showing positioning of the 3D MRA slabs on the sagittal and axial scout images for an abdominal aorta MRA. The lateral limits of the field are demonstrated in the coronal plane image. In this example, the mesenteric circulation as well as the main renal arteries to the renal hilar are included.
Subtraction Imaging
Subtraction imaging is typically performed where a noncontrast (mask) 3D MRA data set is subtracted from subsequent contrast-enhanced 3D MRA data sets. The importance of this step is related to how robust the contrast enhancement is and the availability and capability of postprocessing tools. The strength of MRI is that the contrast differential between gadolinium-enhanced arterial signal and background is much greater than the differential seen between iodinated CT contrast attenuation values of arteries versus background.
Multiple vendors sell hardware and software systems that are designed to import raw data (DICOM) and process these data into realistic 3D images. The most common modes of display include MIP, multiplanar reformatting (MPR), and VR (see
Chapter 6
for further details). If a contrast-enhanced MRA has a particularly high contrast signal within arteries and a relatively low background tissue signal, then actual subtraction imaging is often not necessary. Some 3D workstations are capable of auto segmentation and through a series of complex algorithms perform their own scaling to remove background tissue signals and only display the vascular tree. If arterial signal is not greatly higher than background, then subtraction techniques help to raise the contrast level between the artery in question and the background. This is more critical with imaging smaller branch vessels and is less important when imaging the aorta itself due to its relatively large size.
Caution must be exercised when performing evaluation of aortic MRA just as with any MRA. Source images and MPR interrogation of the data set must be performed, otherwise intraluminal abnormalities such as dissection and shelflike plaque will be missed during viewing of projectional images (MIP) only (
Fig. 18-20
).

Figure 18-20 A:
MIP of aortoiliac MRA showing mild atherosclerotic irregularity (
arrows
) but does not demonstrate underlying dissection.
B, C
: Source MRA images demonstrating aortic dissection (
arrows
).
D:
Source MRA image better demonstrating bilateral common iliac dissections (
arrows
) not well seen on MIP.
Postcontrast Two-dimensional Imaging
Although not mandatory, it is often extremely beneficial to obtain at least a limited number of 2D images after a 3D MRA is performed. For the abdominal aorta, these are typically obtained in axial and coronal planes although sagittal is acceptable as well. These delayed 2D images are obtained with a fat-saturated spoiled gradient-recalled echo sequence like FLASH or FMPSPGR and can reasonably be obtained any time within 20 minutes after contrast administration.
They are most beneficial to show mural abnormalities of the aorta, periaortic pathology, and more diffuse abdominal abnormalities in neighboring organs. One must bear in mind that the 3D MRA is really a lumenogram, only demonstrating the aortic lumen in any detail. Critical pathology such as mural thrombus, aneurysm, wall thickening, and plaquing is only demonstrated through additional standard 2D sequences. Furthermore, a small but important percentage of incidental disease (e.g., renal, hepatic, pancreatic, adrenal, and bowel tumors) is detected in the solid and hollow organs as a result of these additional sequences.
Multiphase Exams
Clinical Protocols
Rapid Aorta Protocol for Emergent Evaluation





Axial stack of single-slice steady state gradient echo images






Coronal stack of single-slice steady state gradient echo images






Axial cine steady state gradient echo at the level of the renal arteries






Coronal cine steady state gradient echo
Comprehensive Aorta Protocol (add to the above Rapid Aorta Protocol)





Axial or coronal precontrast HASTE/SSFSE images for evaluation of surrounding abdominal structures, including bowel






Axial and coronal precontrast-enhanced fat-saturated, fast incoherent gradient echo images






(Optional for cases with stenosis) Phased contrast flow quantification sequence at site of stenosis if spin dephasing is noted on cine sequences






(Optional) Contrast-enhanced coronal subsecond MRA

Full access? Get Clinical Tree
Get Clinical Tree app for offline access