Fig. 18.1
A representative EKG significant for Q waves in the lateral precordial leads and an ST elevation in V4
An echocardiogram (Fig.
18.2
) was consistent with finding of an LV aneurysm. Ejection fraction was 23 %.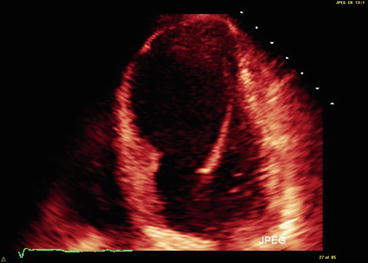 Fig. 18.2
Left ventricular aneurysm on an echocardiogram
Clinical Basics
Key Auscultation Findings





Examine the patient in a quiet environment because an S3 is a low intensity sound and is easily obscured by extraneous room sounds.






Examination in the left lateral decubitus position should accentuate the sound.






Have the patient temporarily suspend their respiration and listen over the left ventricular apex [

1

].






Should be a soft, low frequency sound best heard with the bell.






Sound should be heard during early-mid diastole (.13–.16 s after S2) with a timing that is relatively unaffected by heart rate.






Note: The A2-S3 interval can shorten in conditions that shorten IVR and very high heart rates.






S3 is a localized finding on the exam, and is heard usually in a discrete area (does not radiate widely) [

5

].






S3 can be further accentuated by increasing venous return or increasing flow across the AV valve:






Increasing venous return can be achieved by passively lifting the patient's legs while they are in a supine position.






Increase AV flow by having the patient exercise (e.g., stair climbing) to increase venous flow return and accelerate the heart rate [

1

].






Auscultation example of an S3 gallop.






Click here to listen to an example of an S3; also soft Still's murmur: Echo is within normal limits. A phonocardiogram is also shown (Video 18.1).






Click here to listen to examples of several patients with an S3 gallop, including a 60 year old woman with ventricular gallop, as described by Dr. W. Proctor Harvey (Video 18.2).
Auscultation Differential Diagnosis
S3 can be heard both in normal young adults and in the setting of heart failure. Physical exam findings can help distinguish between physiologic S2, right-sided S3, and left-sided S3. Right-sided S3 is accompanied by the constellation of findings classically seen in right-sided heart failure: hepatosplenomegaly, peripheral edema, pleural effusions, and ascites. In contrast, patients with left-sided S3 typically have the pulmonary congestion symptoms seen in left-sided heart failure.
< div class='tao-gold-member'>