Fig. 4.1
GOSE score.
RA
right atrium,
aRV
atrialized right ventricle,
LA
left atrium,
LV
left ventricle [
4
]
Table 4.1
Mortality risk by GOSE score
| GOSE score | Ratio | Mortality |
| --- | --- | --- |
| 1–2 | <1.0 | 8 % |
| 3(acyanotic) | 1.1–1.4 | 10 % early, 45 % late |
| 3(cyanotic) | 1.1–1.4 | 100 % |
| 4 | >1.5 | 100 % |
A cardiac catheterization is unnecessary and often triggers fatal arrhythmias. The right ventricular and pulmonary pressures are usually normal although the right ventricular end diastolic pressure may be abnormal.
4.5

Treatment
4.5.1

Medical

Medical treatment of the symptomatic neonate depends on the degree of hemodynamic stability. Patients who are reasonably stable are treated with supplemental oxygen and prostaglandin infusion and closely observed for adequacy of cardiac output and oxygen saturations. Treatment of unstable patients involves intubation and deep sedation (Fentanyl of 2–4 mcg/kg/h) and paralysis in addition to initiation of prostaglandins. Ventilation should be adjusted to decrease PVR. We use large tidal volumes (12–15 cc/kg) to offset the effects of gross cardiomegaly on lung expansion. Inhaled nitric oxide may be invaluable in reducing PVR. A continuous infusion of bicarbonates and inotropes (usually dopamine of 510 mcg/kg/h) may be necessary. Following a confirmation of diagnosis by echocardiogram, the clinical progress should be monitored closely. Daily echocardiograms are obtained looking specifically for enhanced antegrade pulmonary blood flow [

4

]. In our own experience as well as others, about half the neonates tend to stabilize and improve over a few days as PVR decreases [

3

,

7

]. Serial echocardiograms will document increasing pulmonary blood flow. Prostaglandin infusion and ventilation are weaned gradually as tolerated.
4.5.2

Surgical
4.5.2.1

Indications for Surgery

Neonates who continue to decline in spite of standard resuscitative measures need surgical intervention as death is certain (Fig.

4.2

). Those who respond to medical measures should be watched over a period of days to weeks. Prostaglandin should be weaned gradually as PVR drops and antegrade pulmonary blood flow increases. The child may be able to establish adequate RV output to be extubated and discharged home. If however the child does not tolerate weaning of prostaglandin (oxygen saturation below 80 %) or positive pressure ventilation, surgical intervention will become necessary [

3

,

7

]. Those with anatomical pulmonary atresia will necessarily require surgery (Fig.

4.2

). Generally if the GOSE score is 3 or 4, the patients will require some form of surgical intervention in the neonatal period [

4

]. It is also worth noting that among those who somewhat respond to medical intervention, the predominant symptom of right heart failure is difficulty in tolerating feeds secondary to mesenteric venous congestion.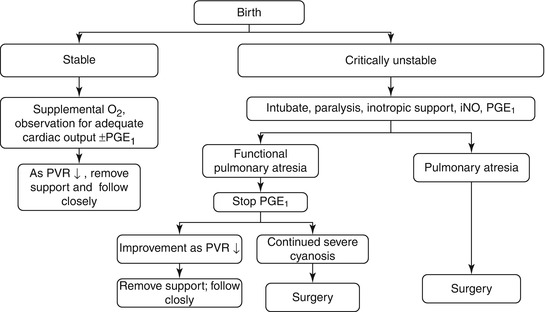 Fig. 4.2
Algorithm for initial management of Ebstein's anomaly in neonates.
O
2
oxygen,
PVR
pulmonary vascular resistance,
PGE1
prostaglandin,
iNO
inhaled nitric oxide [
7
]
4.5.2.2

Evolution of Principles of Surgical Management
4.6

Our Approach to EA in the Neonate

There continues to be considerable controversy over the choice of the right operation for a symptomatic neonate presenting with EA. As mentioned before we are heavily biased towards a biventricular repair [

7

]. In general, patients who demonstrate antegrade pulmonary blood flow (with measures like inhaled NO) and have a reasonable size RV are subjected to a biventricular repair.

Patients with pulmonary atresia seem to fall into two general groups. The first group consists of those with true anatomical obstruction of the main pulmonary artery (Fig.

4.4

). These patients tend to be relatively stable on the ventilator, often with gross cardiomegaly, severe TR, and sometimes a dysplastic (rather than a true EA like) valve. The choice of operation for patients with anatomical pulmonary atresia is dictated by the size of the RV. Those with good size RV receive a biventricular repair. A competent right ventricular outflow tract in form of a RV to PA conduit is used when the tricuspid valve repair appears less than satisfactory. On the other hand if the reconstructed TV appears good, we tend to do a transannular repair sometimes with the addition of a monocusp valve. When the RV is small patients undergo a Starnes repair with placement of BT shunt followed subsequently by a Fontan or 1 and half ventricle repair [

7

].