The author celebrates a special birthday with one of his mentors.
I swear … to hold my medical teachers in high regard. —Hippocratic Oath
For his 90th birthday, I took some freshly baked brownies to J. Willis Hurst, MD, at the Lenbrook Retirement Center.
I had finished my cardiology fellowship under him at Emory University in 1972 ( Figure 1 ), when he was at the peak of his career. A picture of him looms over my examining table today, a reminder to check blood pressures in both arms on the initial visit, to auscultate over surgical scars, to always put the patient's needs above anything else.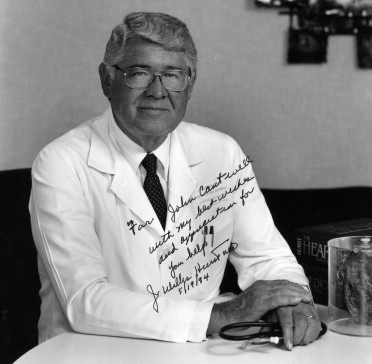 Dr. Hurst gets around in a fancy, motorized wheelchair. He is very hard of hearing, the onset dating back to age 65, when his father had also noted diminished hearing. His mind remains very sharp. He continues to meet with medical house staff, who come to his facility the first Tuesday of the month at 6:30 pm for dinner and a teaching session. I still smile at what he told one resident near the end of his Emory career, as to how much longer he was going to work. "I'll keep working," he said, "as long as my memory is better than yours."
He gave me a guided tour of the facility where he resides, pointing out the choices of dining areas and smiling that the chef is also named Hurst. He showed me his favorite exercise device in the fitness center, the hair salon, the movie theater, and the activities center for plays, musicals, and dancing. I asked Dr. Hurst (whose beloved wife, Nelie, died a few years ago from pancreatic cancer) if the widows get after him. He either didn't hear the question or chose not to answer it. A patient of mine, who lives in the same facility, did mention that he was seen in the company of an attractive woman a little younger than he.
Dr. Hurst invited me up to his private quarters. Books were everywhere, as one would expect; the "great books" series, from Aristotle to Montaigne and Virgil; the classics in medicine and cardiology (including his mentor Paul Dudley White's first edition of Heart Disease ); each edition of Dr. Hurst's own cardiology textbook; and signed autobiographies of his most famous patient, President Lyndon Johnson. He has received so many awards and honors that there isn't enough wall space, so some are tucked under desks and chairs.
I wrote out a question for him: why didn't he write more about what it was like to be 90, about his hearing problem, about unusual experiences he has had? He smiled and handed me a copy of his new book, Short, Short Stories and Random Thoughts . He gave me a preview of several of the stories.
One was titled "Mumps and Dancing." At the age of 36, Dr. Hurst became chairman of the Department of Medicine at Emory, a huge, demanding job. Shortly thereafter, 3 of his young children came down with mumps. On top of that, his wife was pressuring him to begin dancing lessons the following night. He couldn't think of a good excuse to get out of the latter, but he did mention to Nelie that he might be getting the mumps himself. She felt both parotid gland areas and said, "I don't see or feel anything. Are you kidding me?" The next morning, he joyfully reported to her that his face had become swollen, and he had a valid reason to cancel the lessons.
He mentions the ears and hearing in another chapter, "Ears Are Not Very Pretty But…." He recalls chiding young resident trainees who put "normal" after the eyes, ears, nose, and throat examination without testing the hearing. "It is okay to state not examined, but it is not okay to say something is normal when you have not examined it," he reminds us. He goes on to write that he "gets by" with his deafness "but longs to once again hear the high pitch of a leaking aortic valve, the wind, the drops of rain, the song of a bird, beautiful music, and the sound of (his wife's) voice."