Adjunctive Pharmacology for Cardiac Catheterization
Kevin Croce
Daniel I. Simon
An important part of interventional catheterization involves mastery of a broad range of drugs that includes anticoagulant, antiplatelet, vasoactive, sedative, and antiarrhythmic agents. There is little doubt that refinements in antiplatelet (e.g., ADP receptor antagonists) and anticoagulant (e.g., bivalirudin) adjunctive pharmacology have contributed significantly to the improvements in percutaneous coronary intervention (PCI) success, safety, and durability over the last decade, and this chapter focuses on evidence-based recommendations for antithrombotic therapy during PCI highlighting the guidelines from the American College of Cardiology Foundation/ American Heart Association/Society for Cardiac Angiography and Interventions (ACCF/AHA/SCAI).
1
ANTIPLATELET AGENTS
The three classes of antiplatelet agents that are approved for use in PCI patients include cyclooxygenase inhibitors (aspirin), platelet P2Y
12
ADP receptor antagonists (ticlopidine, clopidogrel, prasugrel, ticagrelor), and glycoprotein (GP) IIb/IIIa inhibitors. These agents are commonly used in combination to reduce pre-, intra-, and post-procedural adverse cardiovascular events in patients undergoing PCI. In addition, current guidelines recommend dual antiplatelet therapy with aspirin and an ADP receptor antagonist for all PCI patients based on reduction of ischemic events and stent thrombosis following coronary intervention.
1
,
2
,
3
,
4
ADP Receptor Antagonists
Mechanism of Action and Pharmacokinetics
ADP receptor antagonists attenuate platelet activation by selectively and irreversibly (clopidogrel, prasugrel, ticlopidine) or reversibly (ticagrelor) binding and inhibiting the platelet P2Y
12
ADP receptor, which plays a critical role in orchestrating platelet activation and aggregation.
28
P2Y
12
receptor activation results in sustained platelet aggregation and stabilization of the platelet aggregate. When given in combination with aspirin, ADP receptor antagonists inhibit platelet aggregation to a greater extent than either agent alone.
29
Currently four ADP receptor antagonists are approved for clinical use in the United States (ticlopidine, clopidogrel, prasugrel, and ticagrelor). An additional intravenous ADP receptor antagonist, cangrelor, is currently under clinical investigation. Cangrelor has rapid onset and offset, and although it does not does not appear to be superior to oral regimens in the PCI setting,
30
it is currently being evaluated in bridging patients to cardiac surgery.
31
,
32
Ticlopidine
Ticlopidine is the first-generation ADP receptor antagonist that was approved for use as an antiplatelet agent in 1991. Ticlopidine is a thienopyridine class ADP receptor antagonist, which is an inactive prodrug that requires conversion by hepatic cytochrome P450-3A4 enzymes to produce active metabolites.
33
,
34
The inhibition of platelet aggregation by ticlopidine is concentration dependent
35
and ticlopidine metabolites bind irreversibly to the P2Y
12
receptor resulting in
inhibition for the life of the platelet. Administration of ticlopidine results in maximal platelet inhibition 2 days after the initiation of therapy. However, due to safety concerns (mainly high rates of neutropenia) and twice daily dosing, ticlopidine has been largely replaced by clopidogrel (a second-generation thienopyridine) due to its better safety profile.
36
Clopidogrel
The second-generation thienopyridine clopidogrel differs structurally from ticlopidine by the addition of a carboxymethyl group. Clopidogrel is also a prodrug that requires hepatic cytochrome P450-3A4 conversion to produce active metabolites.
33
,
34
Eighty-five percent of clopidogrel is hydrolyzed by human carboxylesterase-1 into an inactive metabolite, and the remaining 15% of clopidogrel then undergoes a two-step hepatic cytochrome P450 (CYP)-dependent oxidation process. The activation processes involved in clopidogrel metabolism lead to a delay in peak antiplatelet effect that varies from 6 to 9 hours depending on the loading dose. Clopidogrel is six times more potent than ticlopidine and these two drugs do not share common metabolites.
37
The inhibition of platelet aggregation by clopidogrel is concentration dependent and irreversible.
35
Following cessation of clopidogrel therapy, platelet function recovers in 5 to 7 days due to the synthesis of new platelets.
38
It has recently been recognized that there is significant response variability in the degree of platelet inhibition achieved with clopidogrel and the topic of clopidogrel response variability has been reviewed extensively.
39
,
40
,
41
The degree of platelet inhibition achieved with clopidogrel is affected by several clinical factors, such as compliance, age, ethnicity, body weight, diabetes, dyslipidemia, renal function, MI presentation, congestive heart failure, and interaction with drugs that alter prodrug conversion.
42
,
43
,
44
,
45
,
46
,
47
In addition, specific polymorphisms that reduce the activity of hepatic CYP2C19 enzymes (e.g., CYP2C19*2 and CYP2C19*3) decrease hepatic conversion of clopidogrel, and carriers of these reducedfunction CYP2C19 alleles have significantly lower levels of active metabolite, diminished platelet inhibition, and higher rates of adverse cardiovascular events and stent thrombosis following PCI.
46
The prevalence of CYP2C19 polymorphisms is significant, and varies from 30% to 60% depending on ethnic background.
48
,
49
,
50
Polymorphisms in genes that influence GI absorption, such as ABCB1, also influence platelet inhibition by clopidogrel,
51
,
52
and medications that inhibit CYP activity such as certain proton pump inhibitors appear to decrease clopidogrel efficacy by diminishing clopidogrel conversion to the active metabolite.
53
The clinical importance of ABCB1 polymorphisms and clopidogrel drug-drug interactions (e.g., atorvastatin and omeprazole) remain uncertain with regard to their effect on cardiovascular outcomes in PCI patients. In some countries where access to the newer ADP receptor antagonists prasugrel and ticagrelor is limited, the antiplatelet agent cilostazol is added to aspirin and clopidogrel to treat clopidogrel hyporesponders. Cilostazol is a phosphodiesterase-3 inhibitor that increases platelet inhibition in pharmacodynamic studies where poor clopidogrel responders were treated with triple aspirin, clopidogrel, and cilostazol therapy.
54
,
55
Prasugrel
Compared to ticlopidine and clopidogrel, the third-generation irreversible thienopyridine ADP receptor antagonist prasugrel has more rapid onset of action (1 to 2 hours), achieves a greater degree of platelet inhibition, has fewer drug-drug interactions, and less interindividual response variability (
Figure 5.1
).
48
,
56
,
57
Prasugrel is also a prodrug; however, compared to clopidogrel, prasugrel conversion occurs via more efficient hepatic oxidation pathways that result in rapid metabolite production and peak platelet inhibition 30 to 60 minutes after loading dose administration.
48
,
56
,
57
Prasugrel activity is not altered by genetic polymorphisms in hepatic CYP2C19 enzymes.
48
Ticagrelor
The third-generation non-thienopyridine ADP receptor antagonist ticagrelor is a reversibly binding, direct acting, noncompetitive agent. Ticagrelor and prasugrel are similar in the timing of their onset of action (<60 minutes), and both of these newer agents provide a greater degree of platelet inhibition with less interindividual variability compared to clopidogrel.
58
Ticagrelor is not a prodrug and thus does not require hepatic conversion to an active metabolite. In addition, because ticagrelor is a reversible inhibitor, platelet function normalizes within 3 to 5 days following the last dose, which is faster compared to irreversible thienopyridine agents.
59
Dosing for Percutaneous Coronary Intervention
In the setting of PCI, ticlopidine is administered 250 mg twice daily with antiplatelet doses of aspirin. The recommended loading dose of clopidogrel is 600 mg in the setting of PCI which is followed by 75 mg daily.
1
In patients undergoing PCI, the clopidogrel loading dose should be given as early as possible.
1
Pretreatment with clopidogrel prior to PCI improves 30-day outcomes compared to no pretreatment
60
,
61
and, owing to the delay in the onset of clopidogrel action, the benefit of pretreatment is greatest when clopidogrel is administered more than 6 hours prior to the start of the PCI.
62
Several clinical studies have demonstrated that increased loading (900 mg) and maintenance doses of clopidogrel can increase platelet inhibition in patients who are slow clopidogrel metabolizers or in patients who have high on-treatment platelet reactivity on standard dose clopidogrel.
63
,
64
,
65
Higher clopidogrel dosing has been shown to shorten the onset of action, reduce interindividual variability, and improve early outcomes without increasing bleeding.
63
,
64
,
65
Despite the ability of high maintenance dose clopidogrel to increase platelet inhibition, high maintenance dosing strategies have
not consistently improved cardiovascular outcomes when patients with poor clopidogrel response are prospectively identified with platelet function testing.
66
In the setting of PCI, prasugrel is administered with a 60 mg loading dose followed by 10 mg daily. Because of the rapid onset of action, prasugrel preloading was not routinely done prior to diagnostic angiography in clinical studies.
67
Ticagrelor dosing for PCI is accomplished with a 180 mg load followed by 90 mg twice daily. When prescribing ticagrelor, aspirin should be used at low 81 to 100 mg doses because ticagrelor had reduced clinical efficacy in clinical trials when coadministered with highdose aspirin.
27
,
58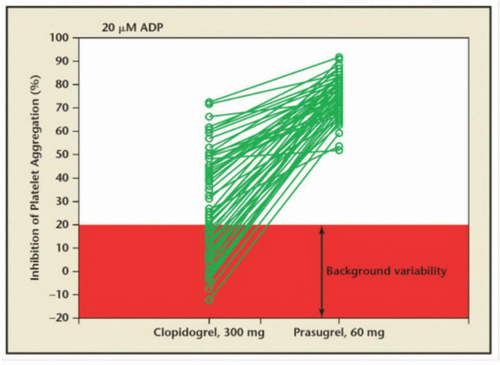 Figure 5.1
Relationship between inhibition of platelet activation by clopidogrel (300 mg) versus prasugrel (60 mg) in response to 20 pmol/L adenosine diphosphate (ADP) 24 hours after loading. Subjects were administered both clopidogrel and prasugrel in a crossover fashion. These data illustrate the point that clopidogrel has significant interindividual variability compared with prasugrel. (From Brandt JT, et al. A comparison of prasugrel and clopidogrel loading doses on platelet function: magnitude of platelet inhibition is related to active metabolite formation.
Am Heart J
2007;153:66.)
Evidence for Use in Percutaneous Coronary Intervention Patients
Adverse Reactions
All of the ADP receptor antagonists increase the risk of bleeding. In CURE, clopidogrel use with aspirin was associated with an increase in bleeding compared to placebo with aspirin (3.7% versus 2.7%; relative risk, 1.38;
P
= 0.001)
70
and in the Clopidogrel Aspirin Stent International Cooperative Study (CLASSICS) major peripheral or bleeding complication were similar between clopidogrel (1.3%) and ticlopidine (1.2%).
36
Compared to clopidogrel, the more potent agents prasugrel and ticagrelor do increase bleeding in patients undergoing PCI.
58
,
67
In TRITON TIMI38, prasugrel use was associated with increased life-threatening bleeding (prasugrel, 1.4% versus clopidogrel, 0.9%;
P
= 0.01), which included nonfatal bleeding (prasugrel, 1.1% versus clopidogrel, 0.9%; HR, 1.25;
P
= 0.23) and fatal bleeding (prasugrel, 0.4% versus clopidogrel, 0.1%;
P
= 0.002).
67
Similarly, in PLATO ticagrelor caused a higher rate of major bleeding not related to CABG (ticagrelor, 4.5% versus clopidogrel, 3.8%,
P
= 0.03), including more instances of fatal intracranial bleeding.
58
The incidence of adverse reaction to ticlopidine is significant; diarrhea, nausea, and vomiting are common with ticlopidine, occurring in 30% to 50% of recipients
72
and neutropenia, which is a serious side effect, occurs in 1.3% to 2.1% compared with 0.10% with clopidogrel.
73
,
74
With ticlopidine, most cases of neutropenia develop within the first 3 months of therapy and initially may be clinically silent. Complete blood counts should be performed every 2 weeks during the first 3 months of therapy.
75
Bone marrow aplasia and thrombotic thrombocytopenic purpura (TTP) have been reported with ticlopidine.
76
,
77
,
78
The estimated incidence of ticlopidineassociated TTP is 1 per 1,600 to 5,000 patients treated
37
,
77
,
79
while the incidence of TTP with clopidogrel appears to be lower.
77
Allergic or hematologic reactions to clopidogrel occur in approximately 1% of patients and limited information on switching thienopyridine in patients with adverse reactions is available.
80
Desensitization protocols using escalating doses of oral clopidogrel have been proposed for clopidogrel-allergic patients;
81
however, recent availability of the non-thienopyridine ticagrelor may provide an option for switching ADP receptor antagonist class rather than embarking on desensitization.
The incidence of adverse nonhemorrhagic reactions for prasugrel and clopidogrel are similar. Post hoc subgroup analysis of TRITON TIMI 38 identified less clinical efficacy and greater bleeding in patients with prior history of stroke or transient ischemic attack, in elderly patients (age > 75 years), in patients with low body weight (<60 kg), and in patients undergoing urgent CABG. Increased risk of bleeding in these subgroups resulted in an FDA black box warning stating that prasugrel should not be prescribed to patients with any history of stroke or transient ischemic attack or to patients with severe liver dysfunction. In addition, prasugrel is not recommended for elderly patients (age > 75 years) as this subgroup had increased risk of fatal and intracranial bleeding with uncertain benefit except in high-risk subsets (those with history of diabetes or prior MI). Prasugrel should also be avoided with concomitant use of medications that increase bleeding risk (i.e., Coumadin) and should be used with caution in patients with low body weight (<60 kg). The two most common nonhemorrhagic side effects seen with ticagrelor are dyspnea (ticagrelor, 13.8% versus clopidogrel 7.8%) and bradycardia/ ventricular pauses (ticagrelor 6.0% versus clopidogrel 3.5%).
Guideline Recommendations
The 2011 ACCF/AHA/SCAI Guidelines for Percutaneous Coronary Intervention specifically address oral ADP receptor antagonists for patients undergoing PCI. The recommendations are as follows:
1.
A loading dose of a P2Y
12
receptor inhibitor should be given to patients undergoing PCI with stenting (Level of Evidence: A).
Options include:
a.
Clopidogrel 600 mg (ACS and non-ACS patients) (Class I, level of evidence: B)
b.
Prasugrel 60 mg (ACS patients) (Class 1, level of evidence: B)
c.
Ticagrelor 180 mg (ACS patients) (Class 1, level of evidence: B)
2.
The duration of P2Y
12
inhibitor therapy after stent implantation should generally be as follows:
a.
In patients receiving a stent (BMS or DES) during PCI for ACS, P2Y
12
inhibitor therapy should be given for at least 12 months. Options include clopidogrel 75 mg daily, prasugrel 10 mg daily, and ticagrelor 90 mg twice daily. (Class 1, level of evidence: B)
b.
In patients receiving DES for a non-ACS indication, clopidogrel 75 mg daily should be given for at least 12 months if patients are not at high risk of bleeding. (Class 1, level of evidence: B)
c.
In patients receiving BMS for a non-ACS indication, clopidogrel should be given for a minimum of 1 month and ideally up to 12 months (unless the patient is at increased risk of bleeding; then it should be given for a minimum of 2 weeks). (Class 1, level of evidence: B)
Intravenous Glycoprotein IIb/IIIa Inhibitors
Premium Wordpress Themes by UFO Themes
WordPress theme by UFO themes