THREE-DIMENSIONAL ECHOCARDIOGRAPHY CARDIAC IMAGING
Case presented by:
The vast majority of emboli (90%) in patients with atrial fibrillation (AF) arise from the left atrial appendage (LAA) (Figure 72.1). LAA is a structural part of the left atrium, located anterior, lateral, and superior to rest of the left atrium. It is lined with pectinate muscles.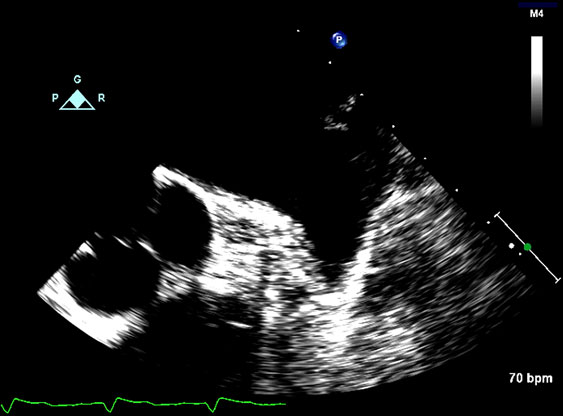 Figure 72.1. LAA with no clot.
Question No. 1: Figure 72.2 shows:
A.Normal LAA function.
B.Doppler evidence of organized atrial contraction.
C.Reduced LAA function with high propensity for thrombus formation.

Figure 72.2. LAA emptying velocities.
Normal LAA function generates LAA emptying velocities of 50 to 80 cm/s. Two-dimensional echocardiography and Doppler imaging produce evidence of mechanical function during LAA contraction, which can be evaluated by transesophageal echocardiography (TEE). During TEE, LAA can be visualized in most patients mid-esophagus at an imaging plane of 90 degrees. Alternatively, it can be seen at zero degrees by slightly withdrawing the probe to a higher position followed by anteflexion. A normal LAA is small in size and visibly contracts. Color flow can be seen entering and leaving the LAA during the cardiac cycle, confirming lack of thrombus. The function is further evaluated by placing a Doppler pulsed-wave sample volume in the mouth of LAA. This reveals a Doppler spectral display with flow toward the probe, following each P wave. In case of AF, LAA velocity waveforms are irregular and of varying sizes due to fibrillation waves of different sizes and occur throughout the cardiac cycle, as displayed in Figure 72.2. Velocities below 40 cm/s are associated with LAA dysfunction, leading to increased risk of thrombus formation.
Question No. 2: An electrophysiologist often is faced with the need to cardiovert a patient in AF. Figure 72.3 shows:
A.LAA thrombus.
B.Side lobe artifact.
C.Reverberation artifact.
D.Pectinate muscles.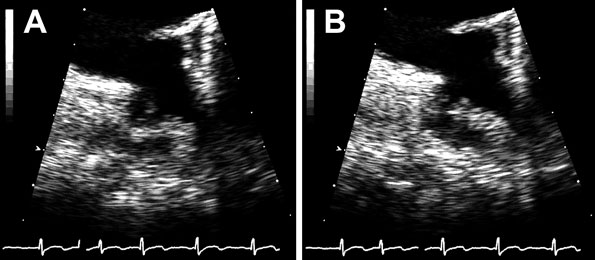 Figure 72.3.