MAPPING AND ABLATION OF RIGHT ATRIAL TACHYARRHYTHMIA IN A PATIENT WITH COMPLEX ANATOMY USING NONCONTACT MAPPING
Case presented by:
Question No. 1: Figure 71.1 shows the following tachycardia mechanism:
A.Focal tachycardia.
B.Atrial fibrillation (AF).
C.Typical cavo-tricuspid isthmus (CTI)-dependent atrial flutter.
D.Atypical atrial flutter.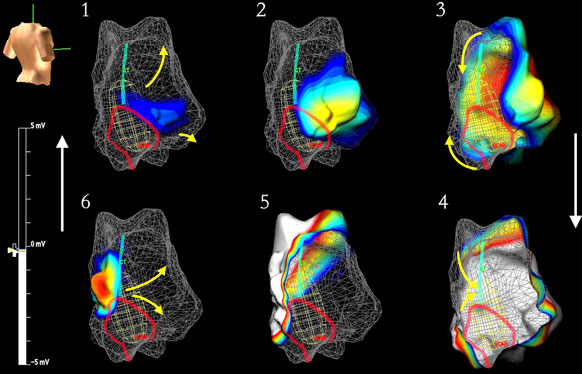 Figure 71.1. Noncontact Mapping Using the EnSite Array™ System. The wire mesh shows the right atrial geometry, with the oval mesh within this chamber representing the array. The torso in the top left shows this is a right lateral/posterior view. The green line is marked at the site of the crista terminalis, and the red line marks an area of scar (these were found on contact mapping and annotated onto the geometry, but can be quickly identified using a function called Dynamic Substrate Mapping). The scale on the left shows that depolarization will be represented by white, which will move around the chamber as the wavefront moves as shown from 1 to 6. Reproduced with permission.1
Case Report
A 17-year-old girl presented with recurrent tachycardia that was very poorly tolerated, requiring cardioversion on each occasion. Her background was of congential tricuspid atresia and creation of a Fontan circulation at age 3 by anastomosing the right atrial appendage to the pulmonary artery (PA). She had since been symptomatically well until now.