Ventricular Septal Defects
A ventricular septal defect (VSD) is a communication between the left and right ventricles or the left ventricle and right atrium. Other than bicuspid aortic valve, VSD is the most common type of congenital heart abnormality, accounting for up to 40% of congenital heart defects (
1
). VSDs encompass a wide anatomic and physiologic spectrum of disease, and they can occur as isolated defects or in association with other congenital heart lesions. Important features of VSDs include location, size, borders, and number of defects. Small defects are often hemodynamically insignificant except for a slightly higher risk of endocarditis (
2
). Large defects typically cause heart failure and require surgical intervention. Long-term outcome after surgical closure of VSD is generally excellent.
Epidemiology
It is difficult to determine the true incidence of VSDs because many close spontaneously in utero or in early infancy. The incidence ranges from 5 to 50 per 1,000 live births and 0.3 per 1,000 adults (
3
). Between 10,000 and 11,000 infants with an isolated VSD are diagnosed annually in the United States (
4
). Approximately one-fifth of these patients undergo surgical closure (
5
). VSDs are seen in association with many other congenital heart anomalies, including conotruncal defects such as tetralogy of Fallot, truncus arteriosus, double outlet ventricle, and aortic arch obstruction.
Etiology
The etiology of a VSD is likely multifactorial with both genetic and environmental components. VSDs are common in aneuploidy syndromes such as Trisomy 13, 18, and 21 (
6
,
7
,
8
) and in other genetic syndromes such as Holt–Oram (TBX5 mutation) (
9
). VSD in offspring has been associated with paternal use of marijuana and cocaine as well as paternal exposure to paint stripping (
10
,
11
).
In the embryo, ventricular septation begins when the right ventricle expands after ventricular looping. The transitional zone between the embryonic left and right ventricles forms the primary interventricular foramen (
12
,
13
,
14
). This foramen separates the embryonic atrium and left ventricle from the right ventricle and outflow tract (
Fig. 30.1A
). Fusion of the superior cushions in the outflow tract forms the muscular subpulmonary and subaortic
outlets (conus) (
15
). The muscular portion of the ventricular septum is formed from the trabecular septum (between the embryonic left and right ventricles), the inlet component (that develops either from the endocardial cushions or as an extension of the trabecular septum), and the conal septum. Fusion of the superior and inferior atrioventricular cushions and mesenchymal cap of the primary atrial septum forms the membranous septum. Septation is completed in the normal heart when the aorta transfers over to the left ventricle and wedges itself next to the forming mitral valve (
Fig. 30.1B
) (
16
).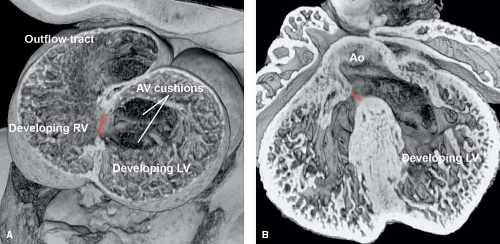 Figure 30.1
Episcopic microscopy images of the embryonic mouse heart depicting normal embryologic development of the ventricular septum.
A:
Frontal section of the mouse heart at embryonic day 10.5 depicting the embryonic interventricular communication (
red line
) separating the developing left ventricle (into which the atrial mass drains via the atrioventricular canal) from the developing right ventricle (from which originates the ventricular outflow tract); at this stage, the embryonic heart is in essence a "double inlet left ventricle" and "double outlet right ventricle" (AV, atrioventricular; LV, left ventricle; RV, right ventricle).
B:
At embryonic day 12.5, the aorta is migrating to the developing left ventricle as the right-sided atrioventricular valve migrates to the developing right ventricle; at this stage, the leading edge of the outflow cushions connects with the crest of the muscular ventricular septum to complete ventricular septation (
red line
), thereby allowing blood from the developing left ventricle to drain into the aorta (Ao, aorta; LV, left ventricle). (Courtesy of Professor Robert H. Anderson, Institute of Genetic Medicine, Newcastle University, Newcastle-upon-Tyne, United Kingdom.)