52



ST-Elevation Myocardial Infarction
Management




Jessica L. Mega, David A. Morrow



The care of patients with ST-elevation myocardial infarction (STEMI) has transformed in conjunction with major shifts in the approach to reperfusion therapy from primarily pharmacologic to catheter-based strategies.1–4 With simultaneous advances in medical therapy, the case fatality rate for patients with STEMI has continued to decline.5 Nevertheless, optimal management of patients at high risk for or with established major complications of STEMI remains critical to the care of this condition. A discussion of the management of STEMI can follow the clinical course of the patient. Chapter 42 addresses primary and secondary prevention of coronary artery disease (CAD). This chapter deals with treatment at the time of onset of STEMI (prehospital issues, initial recognition and management in the emergency department, and reperfusion), hospital management (medications, complications, and preparation for discharge), and early secondary prevention after STEMI. Chapter 55 discusses percutaneous coronary intervention (PCI) in patients with STEMI. Chapter 36 describes the use of internal and external automated defibrillators for primary prevention of sudden cardiac death after myocardial infarction (MI).
Prehospital Management
Given the progressive loss of functioning myocytes with persistent occlusion of the infarct-related artery in STEMI (see Chapter 51), initial management aims to restore blood flow to the infarct zone as rapidly as possible. Primary PCI (see Chapter 55) is generally the preferred option, provided that an experienced operator and team can perform it in timely fashion.1,6,7 Missed opportunities for improvement in the care of STEMI include failure to deliver any form of reperfusion therapy in approximately 20% of patients and failure to minimize delays in reperfusion because of inefficient systems of care.5,8,9 The "chain of survival" for STEMI involves a highly integrated strategy beginning with patient education about the symptoms of MI (see Chapter 50) and early contact with the medical system, coordination of destination protocols in emergency medical service (EMS) systems, efficient practices in emergency departments to shorten door-to-reperfusion time, and expeditious implementation of the reperfusion strategy by a trained team.10,11 The American Heart Association (AHA) launched a national initiative to engineer improved health care delivery for STEMI, including implementation of systems that shorten total ischemic time (Tables 52-1 and 52-2) while emphasizing overall quality of care for STEMI.11,12
Prehospital Care
The prehospital care of patients suspected of having STEMI bears directly on the likelihood of survival. Most deaths associated with STEMI occur within the first hour of its onset and usually result from ventricular fibrillation (VF) (see Chapter 39). Hence immediate implementation of resuscitative efforts and rapid transportation of the patient to a hospital have prime importance. Major components of the delay from the onset of ischemic symptoms to reperfusion include the following1: (1) the time for the patient to recognize the seriousness of the problem and seek medical attention; (2) prehospital evaluation, treatment, and transportation; (3) the time for diagnostic measures and initiation of treatment in the hospital (e.g., "door-to-needle" time for patients receiving a fibrinolytic agent and "door-to-balloon" time for patients undergoing a catheter-based reperfusion strategy); and (4) the time from initiation of treatment to restoration of flow.
Patient-related factors that correlate with a longer time until deciding to seek medical attention include older age; female sex; black race; low socioeconomic status; low emotional or somatic awareness; history of angina, diabetes, or both; consulting a spouse or other relative; and consulting a physician.13,14 Health care professionals should heighten the level of awareness of patients at risk for STEMI (e.g., those with hypertension, diabetes, history of angina pectoris).1 They should use each patient encounter as a "teachable moment" to review and reinforce with patients and their families the need to seek urgent medical attention for a pattern of symptoms that includes chest discomfort, extreme fatigue, and dyspnea, especially if accompanied by diaphoresis or lightheadedness. Patients should also be instructed in the proper use of sublingual nitroglycerin and to call emergency services if the ischemic-type discomfort persists for more than 5 minutes.1
Emergency Medical Service Systems
EMS systems have three major components: emergency medical dispatch, first response, and the EMS ambulance response. The expanded capability to record a prehospital 12-lead electrocardiogram (ECG) represents a major advance in EMS systems (Table 52-2).15 The ability to transmit such ECGs and to activate the STEMI care team before arrival at the hospital places EMS efforts at the center of the early response to STEMI.16,17 Ongoing efforts to shorten the time until treatment of patients with STEMI include improvement in the medical dispatch component by expanding 911 coverage, providing automated external defibrillators to first responders, placing automated external defibrillators in critical public locations, and greater coordination of the EMS ambulance response. Well-equipped ambulances and helicopters staffed by personnel trained in the acute care of patients with STEMI allow definitive therapy to begin during transport to the hospital (Table 52-3). Radiotelemetry systems that allow transmission of the electrocardiographic signal to a medical control officer are highly desirable for facilitating the triage of patients with STEMI and are becoming increasingly available in many communities (Fig. 52-1).
TABLE 52-3
Prehospital* Reperfusion Checklist for Evaluation of Patients with ST-Elevation Myocardial Infarction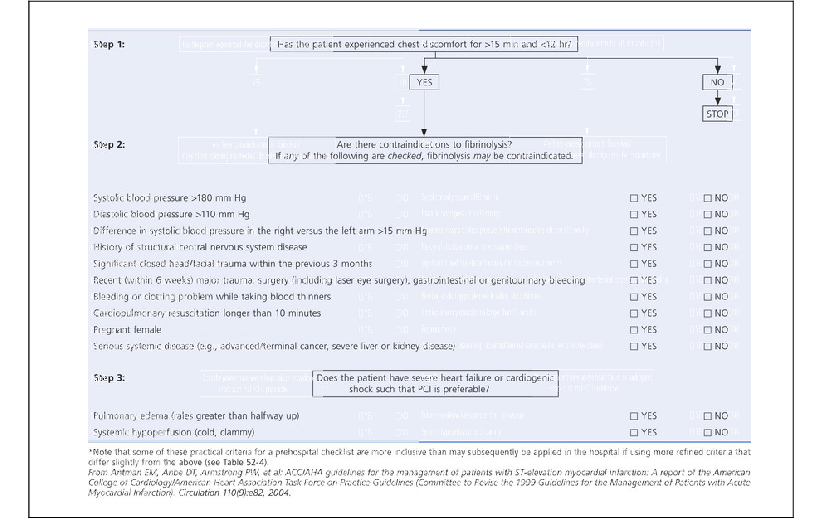 In addition to prompt defibrillation, the efficacy of prehospital care appears to depend on several factors, including early relief of pain with its deleterious physiologic sequelae, reduction of excessive activity of the autonomic nervous system, and treatment of arrhythmias such as ventricular tachycardia (VT)—but these efforts must not delay rapid transfer to the hospital (Fig. 52-1).
Prehospital Fibrinolysis
Multiple observational studies and several randomized trials have evaluated the potential benefits of prehospital versus in-hospital fibrinolysis.1,17 Although none of the individual trials showed a significant reduction in mortality with prehospital-initiated fibrinolytic therapy, earlier treatment generally provides greater benefit: a meta-analysis of all the available trials demonstrated a 17% reduction in mortality.1 The CAPTIM (Comparison of primary Angioplasty and Pre-hospital fibrinolysis In acute Myocardial infarction) trial, for example, reported a trend toward a lower mortality rate in patients with STEMI who received prehospital fibrinolysis than in those who received primary PCI, especially if they were treated within 2 hours of the onset of symptoms.1 Prehospital fibrinolysis is reasonable in settings in which substantial time can be saved by prehospital treatment because of long transportation times (i.e., 60 to 90 minutes or longer), physicians are present in the ambulance, or there is a well-organized EMS system with full-time paramedics who can obtain and transmit 12-lead electrocardiographic recordings from the field to an online medical command able to authorize prehospital fibrinolysis (Fig. 52-1).18
Management in the Emergency Department
When evaluating patients with chest pain in the emergency department, physicians must confront the difficult tasks of rapidly identifying patients who require urgent reperfusion therapy, triaging lower-risk patients to the appropriate setting within the hospital, and not discharging patients inappropriately while avoiding unnecessary admissions. A history of ischemic-type discomfort and the initial 12-lead ECG are the primary tools for screening patients with possible acute coronary syndromes (ACSs) for STEMI (see Chapter 50).19 Because the 12-lead ECG is at the center of the decision pathway for initiation of reperfusion therapy, it should be obtained promptly (≤10 minutes after hospital arrival) in patients with ischemic discomfort.1 More extensive use of prehospital 12-lead ECGs has also facilitated early triage of patients with STEMI.15 Because lethal arrhythmias can occur suddenly in patients with STEMI, all patients should have bedside monitoring of the ECG and intravenous access.
The presence of ST-segment elevation on the ECG in a patient with ischemic discomfort highly suggests thrombotic occlusion of an epicardial coronary artery, and it should trigger a well-rehearsed sequence of rapid assessment of the patient for initiation of a reperfusion strategy.1 If the initial ECG reveals ST-segment elevation of 0.1 mV or greater in at least two contiguous leads or a new or presumably new left bundle branch block, the patient should be evaluated immediately for a reperfusion strategy. Critical factors that weigh into selection of a reperfusion strategy include the time elapsed since the onset of symptoms, the risk associated with STEMI, the risk related to administering a fibrinolytic, and the time required to initiate an invasive strategy (Fig. 52-1). In non–PCI-capable hospitals, the initial assessment should include evaluation of the contraindications to administration of a fibrinolytic (Table 52-4). Patients with an initial ECG that reveals new or presumably new ST-segment depression and/or T wave inversion without ST-segment elevation are not considered candidates for immediate reperfusion therapy unless a posterior injury current is suspected (see Chapter 53).
Given the importance of time to reperfusion,7 emphasis has shifted to overall medical system goals, starting at the point of first medical contact with the patient.1,20 Benchmarks for medical systems to use when assessing the quality of their performance are a door-to-needle time of 30 minutes or less for initiation of fibrinolytic therapy and a door-to-device time of 90 minutes or less for percutaneous coronary perfusion (Fig. 52-1).1,4
In patients with a clinical history suggestive of STEMI (see Chapter 50) and an initial nondiagnostic ECG (i.e., no ST-segment deviation or T wave inversion), serial tracings should be obtained during evaluation in the emergency department. Emergency department staff can seek the sudden development of ST-segment elevation by periodic visual inspection of the bedside electrocardiographic monitor, by continuous ST-segment recording, or by auditory alarms when the ST-segment deviation exceeds programmed limits. Decision aids such as computer-based diagnostic algorithms, identification of high-risk clinical indicators, rapid determination of cardiac biomarkers, echocardiographic evaluation for regional wall motion abnormalities, and myocardial perfusion imaging have greatest clinical usefulness when the findings on the ECG are not diagnostic.
General Treatment Measures
Aspirin is effective across the entire ACS spectrum and is part of the initial management strategy for patients with suspected STEMI. Because low doses take several days to achieve a full antiplatelet effect, 162 to 325 mg should be administered at the first opportunity after initial medical contact.1 To achieve therapeutic blood levels rapidly, the patient should chew the tablet to promote buccal absorption rather than absorption through the gastric mucosa.21
Control of Cardiac Pain
Initial management of patients with STEMI should target relief of pain and its associated heightened sympathetic activity. Control of cardiac pain is typically achieved with a combination of analgesics (e.g., morphine) and interventions to favorably improve the balance of myocardial oxygen supply and demand, including oxygen, nitrates, and in appropriately selected patients, beta-adrenergic receptor–blocking agents (beta blockers).1
Limitation of Infarct Size
Infarct size is an important determinant of prognosis in patients with STEMI. Patients who succumb from cardiogenic shock generally exhibit either a single massive infarct or a small to moderate infarct superimposed on multiple previous infarctions.24,25 Survivors with large infarcts frequently exhibit late impairment of ventricular function, and their long-term mortality rate is higher than that of survivors with small infarcts, in whom cardiac decompensation tends not to develop.26 In view of the prognostic importance of infarct size, the possibility of modifying infarct size has attracted much experimental and clinical attention (see Chapter 51, Fig. 51-11).7,27 Efforts to limit infarct size have been divided among several different (sometimes overlapping) approaches: (1) early reperfusion, (2) reduction of myocardial energy demands, (3) manipulation of energy production sources in the myocardium, and (4) prevention of reperfusion injury.
Dynamic Nature of Infarction
STEMI is a dynamic process that does not occur instantaneously but rather evolves over a period of hours. The fate of jeopardized, ische­mic tissue can be favorably affected by interventions that restore myocardial perfusion, reduce microvascular damage in the infarct zone, decrease myocardial oxygen requirements, inhibit accumulation or facilitate washout of noxious metabolites, augment the availability of substrate for anaerobic metabolism, or blunt the effects of mediators of injury that compromise the structure and function of intracellular organelles and constituents of cell membranes. Strong evidence in experimental animals and suggestive evidence in patients indicate that ischemic preconditioning, a form of endogenous protection against STEMI, before sustained coronary occlusion decreases infarct size and is associated with a more favorable outcome along with decreased risk for extension of infarction and recurrent ische­mic events. Brief episodes of ischemia in one coronary vascular bed may precondition myocardium in a remote zone and thereby attenuate the size of infarction in the latter when sustained coronary occlusion occurs.28
Perfusion of myocardium in the infarct zone appears to be reduced maximally immediately following coronary occlusion. Spontaneous recanalization of an occluded infarct-related artery occurs in up to a third of patients beginning at 12 to 24 hours. This delayed spontaneous reperfusion may enhance left ventricular function because it improves healing of infarcted tissue, prevents ventricular remodeling, and reperfuses hibernating myocardium. Yet, strategies involving pharmacologically induced and catheter-based reperfusion of the infarct vessel can maximize the amount of salvaged myocardium by accelerating the process of reperfusion and also implementing it in patients who would otherwise have an occluded infarct-related artery (Fig. 52-1) (see Chapter 55). An overarching concept that applies to all methods of reperfusion is the critical importance of time. Reduction of mortality in patients with STEMI is greatest the earlier the infarct artery is reperfused (Fig. 52-2).1
Additional factors that may limit infarct size during reperfusion include relief of coronary spasm, prevention of damage to the microvasculature, improved systemic hemodynamics (augmentation of coronary perfusion pressure and reduced left ventricular end-diastolic pressure), and collateral circulation. Prompt implementation of measures designed to protect ischemic myocardium and support myocardial perfusion may provide sufficient time for the development of compensatory mechanisms that limit the ultimate extent of infarction (see Chapter 51). Interventions designed to protect ischemic myocardium during the initial event may also reduce the extension of infarction or early reinfarction.
Routine Measures for Limitation of Infarct Size
Although timely reperfusion of ischemic myocardium is the most important technique for limiting infarct size, several routine measures to accomplish this goal apply to all patients with STEMI, regardless of whether they receive reperfusion therapy.1 The treatment strategies discussed in this section can be initiated at first medical contact and be continued throughout the hospital phase of care.
Myocardial oxygen consumption should be minimized by maintaining the patient at rest both physically and emotionally and by using mild sedation and a quiet atmosphere—in addition to the interventions already discussed. Administration of adrenergic agonists should be avoided whenever possible. All forms of tachyarrhythmia require prompt treatment because they increase myocardial oxygen needs. Heart failure should also be treated swiftly to minimize increases in adrenergic tone and hypoxemia (see the section Left Ventricular Failure).
If ongoing ischemia occurs, severe anemia should be corrected by the cautious administration of packed red blood cells, accompanied by a diuretic if there is any evidence of left ventricular failure. Associated conditions, particularly infections and accompanying tachycardia, fever, and elevated myocardial oxygen needs, require management.
Reperfusion Therapy
Fibrinolysis
Fibrinolysis recanalizes the thrombotic occlusion associated with STEMI, and restoration of coronary flow reduces infarct size and improves myocardial function and survival over both the short and long term.48 Patients treated within the first 1 to 2 hours after the onset of symptoms seem to have the greatest potential for long-term improvement in survival with fibrinolysis.1
Get Clinical Tree app for offline access