Clinical entity
Clinico-pathologic key points
Main CT scan features
Main Diagnostic step(s)
Therapeutic options
Follicular bronchitis/bronchiolitis
Background of autoimmunity (Rheumatoid Arthritis, Sjogren…)
Small nodules (centrilobular/broncocentric) bronchial wall thickening
Surgical biopsy (BAL is an ancillary test)
Macrolides
Immunodeficiency (familial, common variable immunodeficiency, HIV…)
Steroids
Dyspnea on effort, bronchorrhea
Obstructive impairment
Lymphoid follicles (B cells) around bronchioles
LIP
Background of autoimmunity (Sjogren….)
Centrilobular nodules, septal thickening, ground glass attenuation, cysts
Surgical lung biopsy
Steroids (BAL is an ancillary test; Azathiprine immunohistochemistry/ Cyclophosph.. molecular tests to exclude a monoclonal component)
Dyspnea on effort, cough
Restrictive impairment
Diffuse interalveolar infiltration of lymphocytes (CD3 + cells), lymphoid hyperplasia (follicles consisting of B cells around bronchioles) scattered granulomas
MALT Lymphoma
Mean age 60 yrs
Rounded or segmental shaped consolidations
Surgical biopsy
Chemotherapy
Asymptomatic (minority of cases)
Air bronchogram
CT scan guided or TBB biopsy
Rituximab
B symptoms (fever, asthenia,…) in a minority of cases)
Ground glass opacities Hilar/mediastinal lymphnodes
BAL
Respiratory symptoms (cough, dyspnea
Reticular, perilymphatic opacities
Autoimmune background (Sjogren..) as a predisponent condition
Extrapulmonary involvement In a significant number of cases
Normal PFTs or restrictive Impairment
Search for serum monoclonal component
Lymphocytes with small to medium-sized irregular nuclei, CD19+, (centrocytic-like or monocytoid appearance); plasmocytic differentiation Lymphoepithelial lesions Perilymphatic distribution of the neoplastic infiltrate Light chain restriction
T cell rich B cell Lymphoma (LYG)
Respiratory symptoms (cough, dyspnea, chest pain, acute respiratory failure)
Multiple nodules
Surgical Biopsy
Chemotherapy
Diffuse reticulonodular infiltrates (rare)
Rituximab
Systemic manifestations (fever, malaise, weight loss)
Cavitation (10–25 %)
Extrapulmonary involvement (skin, CNS, kidney…)
Leukopenia or lymphopenia (CD4+ lymphopenia) in about 20–30 % of cases; serologic evidence of prior EBV infection
Perivascular/vascular polymorphous Infiltrate, necrosis of coagulative type
Scattered (or sheets of) large B cells expressing markers of EBV infection; cells relative to the reactive lymphocyte (CD3+, mainly) background is used to grade the lesions
Intravascular B cell Lymphoma
Occurs in older patients
Peripheral wedge shaped lesions; pleural effusion (bilateral); mosaic oligoemia; normal CT aspects/diffuse pulmonary uptake on FDG-PET
Surgical Biopsy
Chemotherapy
Dyspnea; pulmonary hypertension; clinical onset mimicking pulmonary thromboembolism
TBB biopsy
Rituximab
Systemic symptoms (fever…)
Symptoms manifesting an extrapulmonary involvement (CNS, skin…)
Important reduction of PAO2 and PaCO2 inspite of normal lung volumes
A significant increase of LDH; a variant associated with hemophagocytic syndrome has been reported mostly in Asian populations
Intravascular (small vessels, capillaries) neoplastic lymphoid cells (in the majority of cases expressing B markers); the pattern may be misinterpreted as "intersdtitial pneumonitis" or "minimal changes"
Extra-nasal-type NK/T cell Lymphoma
Systemic symptoms (fever, malaise, weight loss)
Nodules or masses (possibly escavated)
Surgical biopsy
Chemotherapy
Respiratory symptoms (dyspnea, cough, acute respiratory failure)
Superimposed infections manifesting with ground glass attenuation or "crazy paving"
TBB biopsy
Extrapulmonary involvement Skin,…)
An opportunistic infection may be the first clinical manifestation
Marked lymphopenia (CD4 + cells); elevated LDH; hemophagocytic syndrome
Angiocentric infiltration of lung tissue by packed lymphoma cells (small, medium sized or angulated or serpentine nuclei) Azurophilic cytoplasmic granules in Giemsa preps
Neoplastic cells are CD2+, CD56+ and cytotoxic molecules (granzyme and perforin) are positive
In situ hybridization for EBV encoded RNA (EBER) is positive in the majority of cases
Reactive pulmonary lymphoproliferative diseases
encompass a spectrum of inflammatory and reactive lesions that are often difficult to diagnose since they are difficult to differentiate from other reactive and neoplastic entities. They includes different clinico-pathological patterns: intrapulmonary lymph nodes, nodular lymphoid hyperplasia, follicular bronchitis/bronchiolitis, lymphocytic interstitial pneumonia (LIP) and Castelman's disease.
Malignant lymphoproliferative diseases
are distinguished in
Hodgkin's and non-Hodgkin's
lymphomas (HL and NHL), affecting B or T/NK cells. Malignant lymphoproliferative disorders may arise as
primary pulmonary lymphomas
(PPL) within the lung parenchyma without evidence of extrapulmonary involvement at diagnosis or in the subsequent 3 months or as
secondary pulmonary lymphomas
spreading from systemic lymph nodes, through the circulation or from neighbouring sites (e.g. from mediastinal lymph nodes or thymus).
Malignant proliferative diseases occur more frequently in immunocompromised hosts, having in
post-transplantated
and in
HIV
 ± 
patients
a slightly different clinical and pathological profile from patients with autoimmune disorders or immune competent hosts.
Reactive Pulmonary Lymphoproliferative Disease
Hyperplasia of lymphoid elements, such as intrapulmonary lymph nodes, mucosa-associated lymphoid tissue (MALT) and lymphoreticular aggregates in the terminal bronchioles, may be seen in a variety of lung disease.
Intrapulmonary lymph nodes
are distributed at the hilum and occasionally found in the vicinity of the pleura. Hyperplasia of intrapulmonary lymph nodes may be due to a wide spectrum of causes ranging from common hyperplastic and reactive processes to malignant changes. To evaluate the nature of intraparenchimal lymph nodes high-resolution computed tomography (HRCT), positron emission computed tomography (PET-CT) are useful tools, but surgery is necessary to obtain a definitive diagnosis.
Reactive pulmonary lymphoid hyperplasia
includes nodular lymphoid hyperplasia and diffuse lymphoid hyperplasia, this last one encompassing the two histological patterns of lymphocytic interstitial pneumonia (LIP), follicular bronchitis/bronchiolitis and Castleman's disease (CD).
Clinical Vignette
A 37 year-old Nigerian male was admitted to our hospital suffering with cough and fever with chills The patient immigrated from Nigeria 1 years prior to presentation. He reported no exposure to tuberculosis and tuberculosis skin test was negative. In the past he suffered from malaria. Laboratory tests revealed anemia (Hb 6.5 g/dl), elevated C reactive protein (CRP), monoclonal hyperimmunoglobulinemia IgG Kappa, and an elevated interleukin-6 level: 37, (normal value <11). A contrast enhanced CT of the chest and abdomen showed ground glass opacities and interlobular septal thickenings in the lungs (Fig.
31.1
) accompanied with axillary, hilar, mediastinal and abdominal lymphadenopathies with hepatosplenomegaly. Rigid broncoschopy was performed for transbronchial needle aspiration in sub carinal lymph node and transbronchial lung biopsy. Plasmacytic infiltration of the lymphoid tissue with scattered lymphoid CD30 positive cells with a blastoid morphoplogy and plasmacytic and lymphocytic infiltration in the pulmonary interalveolar septa and around the bronchovascular bundles were documented. In situ hibrydization using probes to detect the Human Herpesvirus 8 (HHV-8) particles revealed positive cells in the lung parenchyma.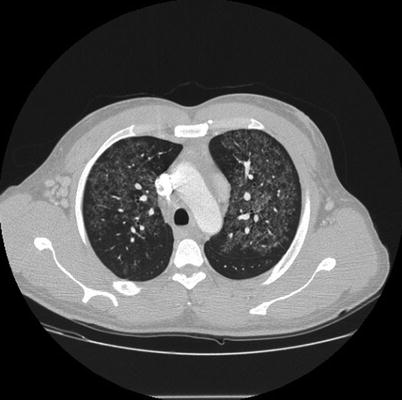 Fig. 31.1
Lung window of the contrast-enhanced CT scan of the chest. Multiple centrilobular ground glass opacities are present in both upper lobes. A relative subpleural sparing and mild septal thickening are also present
To confirm the diagnosis, of Castleman disease an excision biopsy of axillary nodes was performed. Interfollicular expansion composed predominantly of plasma cells with some degree of atypia associated with follicular hyperplasia was documented, suggesting HHV-8 correlated multicentric Castleman's disease, plasma cell type (Fig.
31.2a, b
).

Fig. 31.2
(
a
,
b
) Histological finding of axillary nodes biopsy: (
a
) A burn out follicle with a prominent, hyalinized penetrating blood vessel (lollipop appearance); characteristic "onion skin" appearance due to the lamination of the mantle cell layers. (
b
) Focal immunoreactivity for HHV8 Interfollicular expansion composed predominantly of plasma cells and some degree of atypia associated with follicular hyperplasia
After chemotherapy, the symptoms that included fever and sweating subsided.
Castleman's Disease
The plasma cells type (PC) is characterized by a diffuse polytypic or monotypic (IgA lambda) plasma cells proliferation, often in sheets, in the interfollicular stroma.
The localized form of the disease is mostly asymptomatic with a single site lymph node enlargement. The sites commonly involved are abdomen, peripheral lymph nodes and the mediastinum. It is often discovered incidentally during routine examination, chest X rays. Diagnosis is made by histological analysis of the lymph node biopsy to distinguish it from a thymoma. Multifocal CD, however, presents with systemic symptoms along with multiple lymph node hyperplasia.
Clinical manifestations of lung involvement include dyspnoea, cough, bilateral crackles, or rapidly progressive respiratory failure. Pulmonary symptoms develop always simultaneously with severe systemic manifestations: high grade fever, malaise, generalised lymphadenopathy and hepatosplenomegaly. Hypoxaemia and hypocapnia are often present.
Nodular Lymphoid Hyperplasia
Nodular lymphoid hyperplasia, also known as "pseudolymphoma", is a localized mass characterized by a lymphoid infiltrate with a lack of evidence of clonality despite immunohistochemical and genetic studies. The most common clinico-radiological feature is a localized and asymptomatic mass, although few patients present fever and elevated ESR. The single lesion is usually curable by surgical excision. Finally it is needed to evaluate the possibility of nodular lymphoid hyperplasia (pseudolymphoma) or clonal lymphoproliferative disorder in the lung as potential manifestations of immunoglobulin(Ig)G4-related disease [
14
,
15
].
Lymphocytic Interstitial Pneumonia (LIP)
Lymphocytic interstitial pneumonia (LIP) [
16
,
17
] is a rare interstitial lung disease characterized by the presence of aggregates of B and T reactive lymphocytes within the lung interstitium.
LIP is associated with serum protein abnormality (monoclonal gammopathy, polyclonal dysproteinemia, hypogammaglobulinemia), immunological disorders, such as Sjogren syndrome (25 % of cases), primary biliary cirrhosis, myasthenia gravis, Hashimoto thyroiditis, pernicious anemia/agammaglobulinemia, autoimmune haemolytic anemia, systemic lupus erythematosus, celiac disease,
HIV infection
,
EBV infection
,
chronic active hepatitis
, other infections (e.g.,
pneumocystis
,
tuberculosis
), drug injury, allogeneic bone marrow transplantation (GVHD), extrinsic allergic alveolitis. LIP occurs more commonly in women and the mean age is around 55 years.
Presenting symptoms are progressive cough and dyspnoea, weight loss, fever, arthralgias. Common physical findings are bibasilar crackles and finger clubbing (reported in about 50 % of cases). Pulmonary function tests show reduction of lung volume, reduction of DLco, hypoxemia and usually hypocapnia.
The chest radiograph characteristically shows bibasilar reticulonodular infiltrates, a mixed alveolar-interstitial pattern can occur when infiltrates coalesce and cause compression of the alveoli. Typical HRCT abnormalities consist of areas of ground-glass attenuation and poorly defined centrolobular nodules and subpleural small nodules, mostly bilateral (>90 %) and with a diffuse distribution (>60 %). Other common findings are thickening of bronchovascular bundles, interlobular septal thickening (82 %), cystic lesions (68 %) (Fig.
31.3
), and lymph node enlargement (68 %). Less common findings include nodules 1–2 cm in diameter (41 %), airspace consolidation (41 %), emphysema (23 %), bronchiectasis (18 %), pleural thickening (18 %), and honeycombing (5 %). Honeycombing and pulmonary hypertension appears in advanced disease. Pleural effusion are infrequent, except in HIV related LIP. Usually the presence of pleurisy, large nodules and mediastinal adenopathy is suggestive for pulmonary lymphoma. Histologically, LIP is characterized by a heavy interstitial lymphoid infiltrate with minor peribronchiolar involvement. Granuloma formation is sometimes noted. Intraalveolar accumulation of small lymphocytes, scanty granulation tissue tufts, and proteinaceous material along with type II cell hyperplasia are ancillary findings. Immunohistochemestry using CD20 shows that B cells are mainly limited to germinal centres (CD10+, Bcl6+, Bcl2−). The interstitial, interalveolar, lymphocytes are prominently T-cells, while the follicles are mainly constituited by B lymphocytes. The immunoglobulin heavy chain gene or the T cell receptor gene using the polymerase chain reaction show no rearrangement.
Epstein
–
Barr virus
has been identified in lung biopsy specimens from both HIV infected and non-infected patients [
18
,
19
].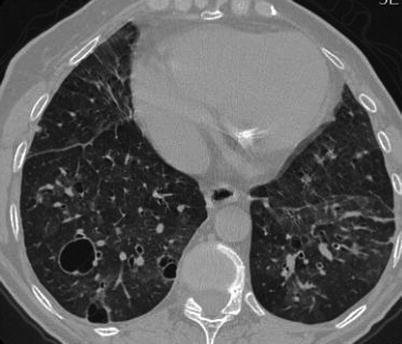 Fig. 31.3
CT scan shows bilateral areas of ground glass attenuation, with a pathcy distribution. Some cyst, variable in size are present in both lower lobes, mainly on the right side. Mild interlobular septal thickening is also present. Findings are consistent with LIP
Treatment with corticosteroid and immunosuppressive drugs may lead to resolution. Median survival is 11,5 years. The outcome is unpredictable and may vary from resolution to death due to progression to fibrosis,
cor pulmonale
and respiratory failure, to superimposed infection, or to development of a complicating lymphoma.
Follicular Bronchitis/Bronchiolitis
Follicular bronchitis/bronchiolitis is a term introduced to describe the predominant peribronchial lymphocytic infiltrate with abundant germinal centres, often associated with various allergic diathesis, immunodeficiency disorders (
HIV infection
, common immunodeficiency syndromes), and collagen vascular diseases.
Patients usually present dyspnoea, occasionally fever and cough, hypoxemia, hypocapnia; either obstructive or restrictive spirometric patterns have been reported. The chest film shows bilateral reticular or nodular opacity. Common high-resolution CT findings are centrolobular nodules, bronchiolar dilatation, tree in bud and mosaic perfusion patterns. Expiratory dynamic HRCT scans are important to assess air trapping. Flow-cytometry of BAL usually document a slight increase of polyclonal B lymphocytes. Surgical lung biopsy is often performed to obtain a definite histological diagnosis. Therapy with steroids and also with macrolides at low dose may have some benefit.
Primary Pulmonary Lymphomas
Primary Pulmonary Lymphomas (PPL) are defined as a clonal lymphoid proliferation affecting one or both lungs (parenchyma and/or bronchi) in a patient with no detectable extrapulmonary involvement at diagnosis or during the subsequent 3 months.
The World Health Organization Classification of tumours of lung (WHO 2004) classifies PPL into B-cell primary pulmonary NHL, as Marginal zone B-cell lymphoma of mucosa-associated lymphoid tissue (MALT) type, Primary pulmonary diffuse large B-cell lymphoma (DLBCL) and Lymphomatoid granulomatosis (LYG), nevertheless the lung may be the primary site of presentation of most type of nodal lymphoma (WHO Classification 2008) such as Follicular lymphoma (FL), Mantle cell lymphoma (MCL), extraosseous plasmacytoma (EP), Intravascular large B cell lymphoma (IVLBCL), Large B-cell lymphoma arising in HHV8-associated multicentric Castleman disease, Plasmablastic lymphoma (PBL), T/NK lymphoma, Anaplastic large-cell lymphoma (ALCL), and Hodgkin lymphoma (HD).
Primary pulmonary non Hodgkin's lymphoma (NHL) is very rare and accounts 0.4 % of all lymphomas and 3.6 % of extranodal lymphoma. Mature B-cell neoplasmas are the prevalent fenotype.