Role of Transbronchial and Endobronchial Biopsies in Children
Transbronchial and endobronchial biopsy have been performed in children and adolescents since the 1980s, with technical advances since 1995 allowing routine biopsy in infants and small children via a pediatric flexible bronchoscope. These biopsy procedures are now performed safely and routinely in pediatric lung transplant recipients for surveillance of rejection and other complications of transplantation. Outside of this clinical setting, however, transbronchial and endobronchial biopsies are performed infrequently in children and adolescents as compared with adults. In a 5-year experience at Texas Children's Hospital, a total of 358 biopsy procedures were performed at bronchoscopy, excluding biopsy of focal endobronchial lesions. Of these biopsies, 338 (94.4%) were performed in lung transplant recipients (57 patients) and only 20 (5.6%) were performed for other indications. The 20 biopsy procedures in non–lung transplant recipients included 11 transbronchial biopsy (TBB) only, 7 endobronchial biopsy (EBB) only, and 2 with both TBB and EBB. Indications included evaluation of infection, graft-versus-host disease and obliterative bronchiolitis in bone marrow transplant recipients, micronodular or suspected granulomatous disease (e.g., sarcoidosis, infection, hypersensitivity pneumonia), evaluation of mucus plugs and/or bronchiectasis, and, rarely, interstitial lung disease. A large series from the University of Florida included 38 pediatric TBBs from non–lung transplant patients over a 7-year period. These biopsies were considered diagnostic in 58%, contributory to diagnosis in 21%, and noncontributory to diagnosis in 21%. Adequacy and diagnostic yield were greater with use of the adult-size biopsy forceps compared with the pediatric equipment. In another study of the diagnostic evaluation of immunocompetent children with chronic interstitial lung disease, transbronchial biopsy was chosen as the first-line diagnostic procedure in 6 of 30 patients (20%) with lung biopsy. TBB using an adult bronchoscope yielded a specific diagnosis in three of six patients (50%; two sarcoidosis, one bronchiolitis obliterans), with subsequent diagnosis in the remaining three by open or thoracoscopic biopsy.
Although TBB may yield useful diagnostic information in selected circumstances, wedge biopsy by open or thoracoscopic procedure is generally preferred in the diagnosis of pediatric interstitial lung disease due to the importance of evaluating lung architecture and development, particularly in infants and young children. Evaluation of the pulmonary vasculature also necessitates wedge biopsy, for example, in children with vasculopathy secondary to congenital heart disease, lymphangiectasia, persistent pulmonary hypertension of the newborn, and idiopathic pulmonary hypertension in older children. Due to its greater diagnostic sensitivity, wedge biopsy may be chosen over transbronchial biopsy for diagnosis of entities with more subtle or focal diagnostic characteristics, for example, vasculitis in pulmonary hemorrhage syndromes, alveolar proteinosis and cholesterol clefts in genetic disorders of surfactant metabolism, and poorly formed granulomas in hypersensitivity pneumonitis. Hyperinflation in cystic fibrosis patients is also considered a relative contraindication to TBB due to the risk of pneumothorax, and wedge biopsy may be preferable in that clinical setting.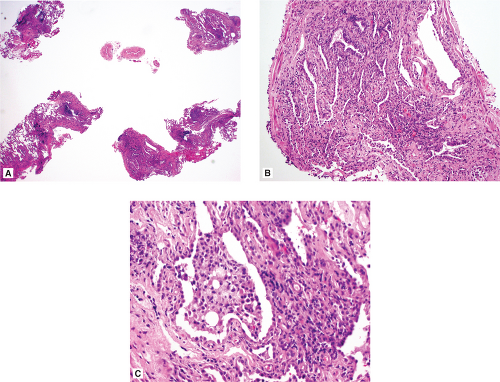 Figure 38.1:
Nonspecific inflammation and fibrosis. This 10-year-old boy with chronic interstitial lung disease underwent transbronchial biopsies (A) showing patchy lymphocytic inflammation and mild fibrosis in the interstitium, as well as accumulation of foamy macrophages in some airspaces (B, C). Specific etiology remains undetermined.
Premium Wordpress Themes by UFO Themes
WordPress theme by UFO themes